BBB: Prescription discount cards in mail not government-issued
Posted:
Updated: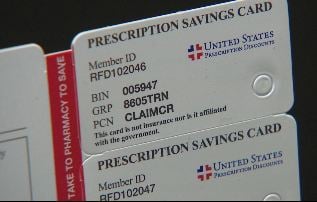 PHOENIX (CBS5) -
You may see a medical prescription discount card in your mailbox soon that looks like it's from the U.S. government.
Well, the United States Prescription Discount card is not government-issued, and while the company claims they can save you a ton of money on your medication, you'll want to do your research.

This company has been circulating these letters in other states for at least a year. Now people in the valley are starting to see them and they're calling the Better Business Bureau.
"It sounded too good to be true," Marjorie Smith said.
The return address for the letter is even in Washington D.C. But the card isn't affiliated with the government at all, and the company says so in its fine print.
They do claim they can get you prescriptions at a lower price for free. The company's website claims they don't rent or sell your personal information, and that they make their money from pharmaceutical companies, not consumers.
"They were offering 50 percent off on prescription drugs, which would be a big help to some people," Smith said.
Smith called up the Better Business Bureau, and they tell us she's not the only one blowing up their phones this week.
"We want to make sure that if a company is advertising, they're being truthful to consumers," said Felicia Thompson with the Better Business Bureau. She said the parent company, New-York based Script Relief, has a C rating. And while she said they've watered down their language since they began circulating these letters, they still claim to save people an average of 50 percent on their prescriptions.
"That's something to be determined, especially here in the valley because it's something new we're receiving," Thompson said.

She said you should talk to your pharmacy before giving away all of your personal information. Smith said she plans to tell her family to keep an eye on their mail.
"I'm going to tell them to watch out for it, and do their research on it," Smith said.

Copyright 2014 CBS 5 (KPHO Broadcasting Corporation). All rights reserved.