ASU Wrestling falls to Chattanooga at VA Duals
Posted:
Updated: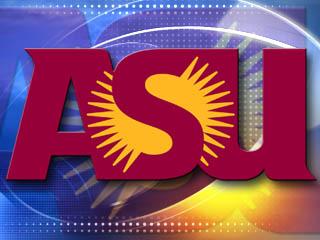 © cbs 5
The Arizona State wrestling team dropped its opening-round match at the Virginia Duals, 35-7, to Chattanooga on Friday at the Hampton Coliseum.
With the loss, the Sun Devils fall to 2-3 on the year in dual matches, and will take on Old Dominion on Saturday at 10 a.m. ET.
ASU's wins came at 125 and 184, with Ares Carpio (125) defeating Byron Smith in an 11-3 major decision, while Wesley Moore (184) defeated John Lampe in a 4-0 decision. Moore is now 4-2 in his last six matches.
Complete Results:
125 Ares Carpio (Arizona State) over Byron Smith (Chattanooga) Maj 11-3
133 Nick Soto (Chattanooga) over Kalin Goodsite (Arizona State) Maj 14-2
141 Mike Pongracz (Chattanooga) over Matthew Kraus (Arizona State) TF 17-0
149 Shawn Greevy (Chattanooga) over Preston McCalmon (Arizona State) Fall 0:29
157 Alex Hudson (Chattanooga) over Joel Smith (Arizona State) Dec 3-1
165 Corey Mock (Chattanooga) over James Brundage (Arizona State) Fall 5:00
174 Levi Clemons (Chattanooga) over Kevin Radford (Arizona State) Maj 16-6
184 Wesley Moore (Arizona State) over John Lampe (Chattanooga) Dec 4-0
197 Scottie Boykin (Chattanooga) over Luke Bean (Arizona State) Maj 16-6
HWT Dawson Peck (Chattanooga) over Chace Eskam (Arizona State) Dec 5-1
Copyright 2014 CBS 5 (KPHO Broadcasting Corporation). All rights reserved.