UPDATE
Jury starts deliberating in Jonathan Doody retrial
Posted:
Updated: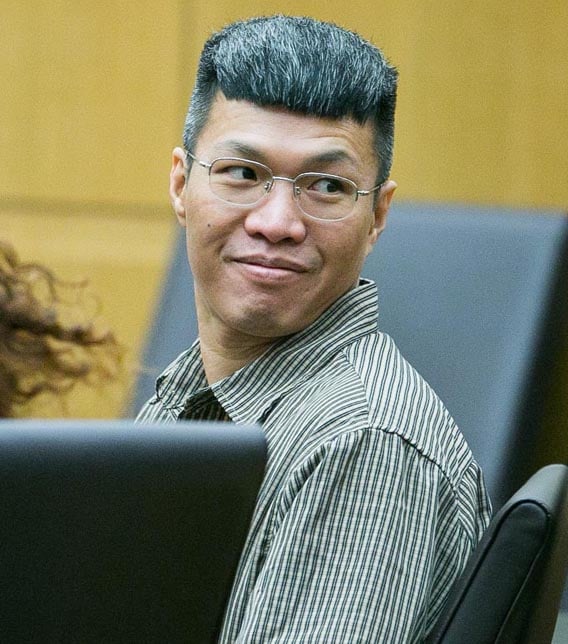 Jonathan A. Doody at his most recent retrial. (Source: KPHO-TV)
PHOENIX (CBS5/AP) -
The fate of accused mass murderer Jonathan Doody is once again in the hands of a jury.
He faces nine counts of first-degree murder in connection with the 1991 Buddhist Temple massacre west of Phoenix. The jury got the case late Monday afternoon after closing arguments.
During closing arguments for this latest trial, Prosecutor Jason Kalish told jurors the only thing that makes sense according to the facts and evidence is that two people were responsible for the Temple murders.
He said one of them is Alex Garcia, who is serving a 270-year sentence for the killings. Garcia was the state's star witness who testified that Doody was the one who shot the nine people execution style.
"Every single piece of property that we can identify as coming from the Temple is linked to Jonathan Doody," Kalish told jurors.
Kalish claims there is much more than Garcia's word to prove that Doody was the other person involved in the killings. He said Doody was the one who wanted no witnesses left behind after they robbed the place and that's why the murders took place.
"The truth we are seeking is who is responsible for their deaths," Kalish said.
"This was a planned event," he argued. "This was not heat of the moment."
The defense said that Garcia pointed the finger at Doody when it's more likely that another of Garcia's friends was his accomplice.
Doody's attorney said her client came in contact with a couple of items from the Temple only after Garcia brought them home to the place he and Doody shared.
"There are no prints, no DNA, no hair, no forensic evidence from the Temple that links Jonathan Doody to those murders," defense attorney Maria Schaffer said in her closing argument.
The trial lasted about five weeks and there are 20 counts in call the jurors have to consider.
This jury's average age is younger than the jury who heard the case last year.
Doody was a teenager when he was found guilty in 1993 in the slayings at the Wat Promkunaram temple. He was sentenced to 281 years in prison. But an appeals court threw out his conviction in 2011, ruling that investigators improperly obtained his confession.
His second trial ended in a mistrial in October after jurors deadlocked.
Doody's third trial began Dec. 4. Closing arguments began Monday morning.
Copyright 2014 CBS 5 (KPHO Broadcasting Corporation). All rights reserved. The Associated Press contributed to this report.
UPDATE

Jury starts deliberating in Jonathan Doody retrial

More>>

Thursday, January 23 2014 11:58 AM EST

2014-01-23 16:58:45 GMT