Neighbors upset about massive egg plant planned for Tonopah
Posted:
Updated: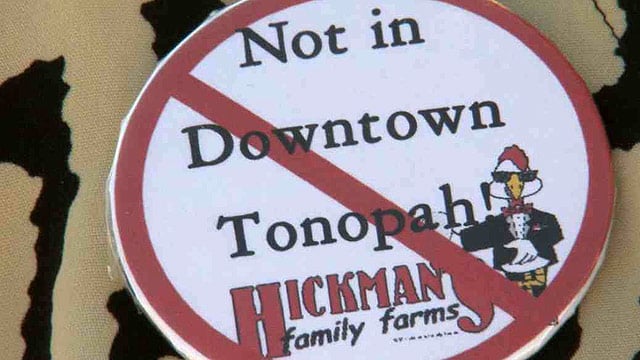 (Source: CBS 5 News)
TONOPAH, AZ (CBS5) -
Hickman Family Farms is planning on building an egg processing facility on a 400-acre piece of land in Tonopah, and many living in the town are upset.

"We're planning on building a state of the art egg laying facility to supply the growing Southwest market," said Billy Hickman, the third-generation co-owner of the company.
Hickman says the new plant, which will house more than 4 million chickens when fully built, is necessary for the company's growth. But some who call Tonopah home say the plant will be too large, and present too many quality of life problems for people living there.

"Our community is going to suffer from having this business in it," said Linda Butler, who moved to Tonopah about eight years ago from Surprise.
"When we moved out to this area, we loved the fresh air, the country living and the quiet," she said.

However, Butler now believes that could all change. The proposed plant will sit just blocks from an area where she said a future hotel and strip mall could be built.
"(There will be the smell, the heavy traffic, and the flies," said Butler.
Hickman said the farm will not keep manure on property, and chicken coops will have additional space; two methods to cut down on smell.
Butler also said she believes there is a conflict of interest in the development of the land. Clint Hickman, Billy's brother, is a Maricopa County Supervisor whose district covers Tonopah. Billy Hickman said his brother is still part owner of Hickman Farms, but has nothing to do with the day-to-day operations or the planned facility in Tonopah.
"This is in his district, so he is conflicted out. He did not (have anything to do with the purchase of the property)," said Billy Hickman.
The first phase of the plant is expected to open by August.

Representatives from Hickman Farms will be in Tonopah on Thursday night to address questions from those living in the town. The meeting will be held at 6 p.m. at Saddle Mountain RV Park.

Copyright2014 CBS 5 (KPHO Broadcasting Corporation). All rights reserved.