CBS 5 Advocate
Do your own research on flooring company's recommended installer
Posted:
Updated: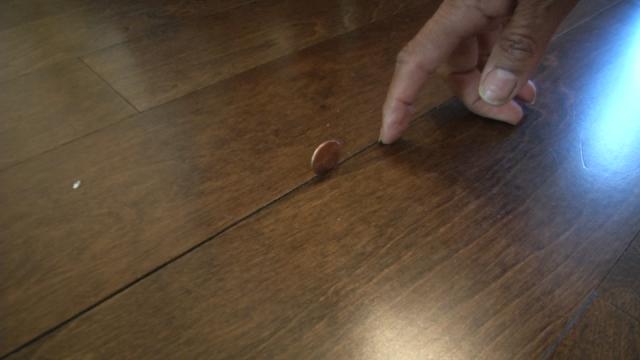 LAVEEN, AZ (CBS5) -
A Laveen woman says a bad flooring installation has led to big hassles with the warranty company. She's learned why consumers shouldn't just jump at the installer offered by the retailer.
Most flooring retailers will also have relationships with installers they can recommend at the time of purchase. If the retailer has a good reputation, chances are they work with quality installers too, but you should still do your own research anyway.
"I had decided to put hardwood flooring throughout my house," Debra Lemle said.
Lemle found a great deal at Lumber Liquidators in Phoenix. For the installation, she decided to use the company offered by the store - Image Flooring. Lemle says a month after the installation, she started noticing separation of the wood in many places.
"So I did call, and they [Image Flooring] came out and they put some wood putty in between where the separation was," Lemle said.
That didn't work, so Lemle had Image Flooring come out again. She says this time, they promised to do as she instructed and try pressing the boards together.
"I went upstairs to see what they were doing and they were putting putty in between the flooring again," Lemle said.
Lemle says the separation has gotten worse. When she reached out to the third party company that manages installations for Lumber Liquidators to file a complaint, she got some news of her own.
"Image Flooring is no longer part of their program and that they would get an installer to come out and fix my floors correctly," Lemle said.
Lemle is still waiting on the other installer. She likes that Lumber Liquidators provides installers and a one-year warranty, but she now realizes she still needs to do her own research.
"I've learned that I should go through the Better Business Bureau and double-check to see who is a good installation company," Lemle said.
CBS 5 News reached out to Lumber Liquidators and through their third party warranty company a new installer has now been scheduled to fix Lemle's flooring. CBS 5 News wishes to thank Lumber Liquidators for working quickly to bring this matter to a successful and fair conclusion.
Again, installers offered by retailers generally do a good job, but check them out yourself before letting them in your house and always watch the installation yourself. If you decide on your own installer, make sure they don't hire a subcontractor to do the actual work and choose one that offers a warranty.
Copyright 2014 CBS 5 (KPHO Broadcasting Corporation). All rights reserved.