Some puzzled why Maricopa Community Colleges has personal info
Posted:
Updated: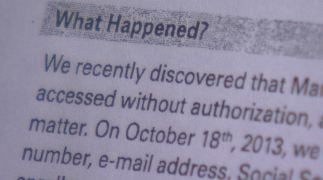 MCCCD alerts millions of possible data lapse
PHOENIX (CBS5) -
Millions should have received a letter from Maricopa Community Colleges (MCCCD) informing them of a lapse in security, exposing 2.4 million people to possible identity theft.
[Click here to read the letter (PDF)]
MCCCD was made aware of the potential exposure of personal information in April 2013 when the FBI discovered 14 databases located on MCCCD web servers were listed for sale on a website, according to letters sent to state attorney general's offices.
A representative for MCCCD said all 2.4 million people who received a letter had some sort of contact with MCCCD over the past few decades but several viewers who received the letter contend they don't know why the schools would have their personal information in the first place.
"We've never had any contact with Maricopa Community Colleges," Charlie Downs said. "We've never done anything with them, there's no reason they should have our personal information."
Downs said he's always been careful with who he gives personal information to. According to MCCCD, information such as Social Security numbers, addresses, driver's license numbers, phone numbers and credit card numbers could get into the wrong hands.
"We have had calls from people who went to school here in the '80s and in the '90s and in the 2000s," an MCCCD representative said. "It goes back decades, there's no question about that."
MCCCD states that because the compromised records go back so far, some former students may have forgotten they took a course at one of the districts schools or perhaps took a class online.
Downs insists the last course he ever took was in 1952 when he went to college in Los Angeles.
"Why in the world is (MCCCD) sending this letter to me?" Downs asked. "I have nothing to do with them."
MCCCD insists everyone who received a letter had some interaction with the colleges.
The schools have taken actions to correct the security exposure, including actions against employees.
The colleges are offering free credit monitoring to all 2.4 million who were affected.
If you received a letter but, like Downs, don't know why, MCCCD suggests calling 1-855-330-6366 from 8 a.m. to 5 p.m. CT.
For more on this story and other stories around Arizona from this author, follow Shawn Kline on Facebook and Twitter.
Copyright 2014 CBS 5 (KPHO Broadcasting Corporation). All rights reserved.