State prepares for icy conditions
Posted:
Updated:
By Joseph Wenzel IV, News Editor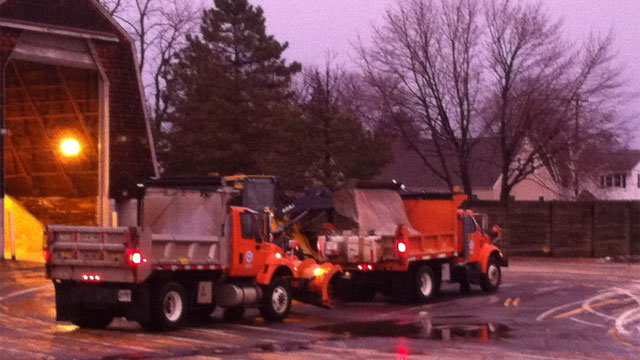 HARTFORD, CT (WFSB) -
The melted snow is causing concern for Connecticut drivers Monday night as temperatures dip down to the single digits.
Crews with the Department of Transportation and Connecticut State Police were both preparing for ice on the roads Monday afternoon.
There were more than 400 DOT trucks patrolling the state highways Monday afternoon. Crews were expected to be out Monday night into the overnight hours. DOT officials said they can't pre-treat because there's too much water on the roadways.
DOT officials said drivers should be most careful about the changing road conditions. While driving on what seems like a dry roadway, people could then hit an icy spot and possibly crash.

The concern is all roads, but DOT officials said from an icing perspective, the focus is on the secondary roads, where there is less traffic and roads weren't drying up.
Monday AAA responded to more than 1,700 calls and 5,000 overall emergency calls since Thursday, which is double their normal call volume. Here is the call breakdown:
Sunday: 1,013 calls
Saturday: 1,474 calls
Friday: 1,464 calls
Thursday: 1,122 calls
The number one call for service on Monday was dead batteries with nearly 1,100 calls, this was more than the towing calls, which is normally the number one request for service.

Leon Pierce, a driver for Yellow Cab Company, said he won't chance it once it gets too cold.
"It's going to be all ice. It's definitely going to be all ice," Pierce said. "I'm not going to drive. I'm going to be honest. I'm going to call it quits. I'd rather be safe than sorry."

Wethersfield resident Jason Sullivan said he's prepared for the cold, and knew it was on the way.
"It's Connecticut. I don't expect anything else living here," Sullivan said. "I have a brother in the (U.S.) Air Force right now and he's in Minnesota and it's minus 45 there."
If your battery is three years older or more, AAA officials said you should pay attention if your car does one of the following items:
Your vehicle cranks slowly when trying to start
You hear a grinding, clicking or buzzing when you turn the ignition on
Your vehicle has stalled
Your headlights dim when you are idling but brighten when you rev the engine
Your battery is more than three years old
Drivers are also advised to have an emergency road kit in their car in case something happens.
People in need of a warm place to stay Monday night or Tuesday is urged to call 211. The governor has also asked cities and towns to open warming centers or other facilities to help people in need."
"We continue to take the necessary steps to make sure that we can take care of those in need of shelter, especially our state's most vulnerable populations," said Gov. Dannel P. Malloy in a statement Monday.
Teams of state workers are working to locate people, who are homeless, and help them find a shelter in their area.

Copyright 2014 WFSB (Meredith Corporation). All rights reserved.