Canaan woman asks Dunkin Donuts to donate its leftovers
Posted:
Updated:
By Joseph Wenzel IV, News Editor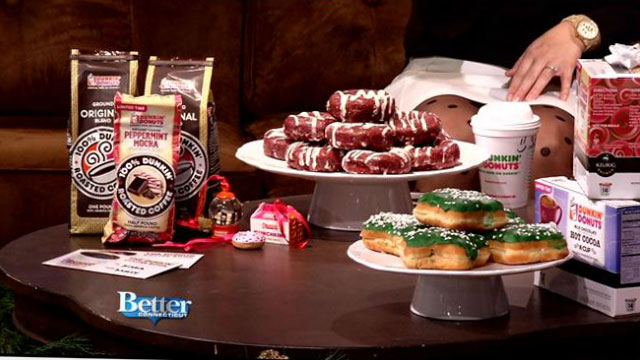 CANAAN, CT (WFSB) -
A Connecticut woman has started a petition asking officials at Dunkin Donuts to donate the uneaten leftovers to those less fortunate.
After a visit to her local Dunkin Donuts in Canaan, Nancy Lewis noticed that "large amounts" of food was being thrown out.
"I couldn't believe it when I found out how wasteful my local Dunkin' Donuts is," Lewis in a statement Friday. "Every day when new donuts arrive, my local store gathers up their leftover donuts and muffins and throws them into the dumpster."
Lewis went on say that the store's employees were not allowed employees to take any of the food home with them.
What was worse, Lewis said there is a food bank located a block away.
"They won't donate these perfectly good leftovers to the needy," Lewis said.

According to Lewis, she contacted Dunkin Donuts headquarters, who told her that "there is no company-wide policy for dealing with leftover food."
So, Lewis started a petition to ask Dunkin Donuts to donate the leftovers to shelters and food banks in their areas. As of Friday, it had more than 1,400 signatures.
"Each Dunkin' Donuts store is allowed to dispose of leftovers however they wish, and since throwing out leftovers is the easiest thing to do, hundreds of Dunkin' Donuts around the world are wasting leftovers while people in their communities go hungry. I think it's wrong to deprive people in need of food that Dunkin' Donuts no longer wants to sell. Instead, Dunkin' Donuts should direct their branches to donate to local food banks and other outlets that help feed the hungry," Lewis wrote on her petition.
According to Lewis, she learned that at one time, the Dunkin Donuts in Canaan was donating its leftovers to pig farmer to be used as pig feed.
Lewis acknowledges that the food at Dunkin Donuts is not the healthiest, but she said "there is no reason for perfectly good food to be thrown out in such large quantities."
To sign the petition, click here.

Copyright 2014 WFSB (Meredith Corporation). All rights reserved.