UPDATE
DPS: 3 hurt in I-10 crash improperly restrained in SUV
Posted:
Updated: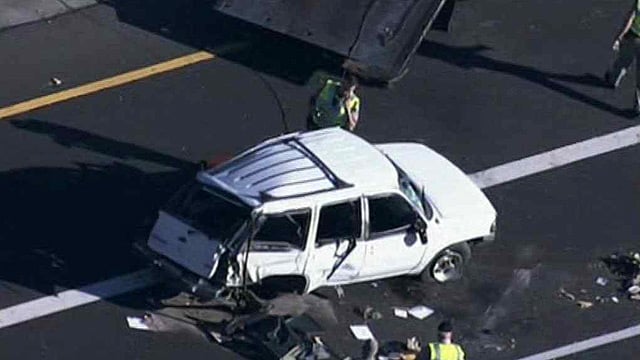 Five people were in this vehicle when it rolled on Interstate 10 Thursday morning. (Source: CBS 5 News)
PHOENIX (CBS5) -
The 20-year-old driver of an SUV was cited for several violations after a rollover crash on Interstate 10 Thursday injured five people, including a mother and her three children.
The SUV was headed west on I-10 near 31st Avenue when a tire blowout caused it to cross the median into oncoming traffic, according to an Arizona Department of Public Safety officer.
The mother and two of her three children were either not wearing seat belts or were improperly restrained, said DPS spokesman Raul Garcia.
The 29-year-old mother was sitting behind the driver, and her 11-year-old son in the front passenger seat, Garcia said. Neither was wearing a seat belt.
The woman's 4-year-old son was wearing a loose seat belt in the middle of the back seat, but her 2-year-old daughter was properly secured in her safety device in the back seat, Garcia said. A person who came upon the crash loosened the 2-year-old's restraints, and she was only slightly injured.
The mother and her 11-year-old son were ejected, and both boys suffered serious head injuries, Garcia said.
The driver was wearing a seat belt and was able to get out of the car and tend to the family before she was taken to the hospital, a DPS spokesman clarified.
The crash happened near 31st Avenue about 9:30 a.m.
Two adults were taken to St. Joseph's Hospital and Medical Center with serious injuries, Garcia said. The oldest boy was taken to Maricopa Medical Center and the other two children to Phoenix Children's Hospital. All were expected to recover, Garcia said.
He said the driver was cited for failure to control a vehicle to avoid a collision, no seat belt for a front-seat passenger younger than 16, and two child passenger restraint violations.
Garcia said no criminal charges were filed.
No other information was immediately available.
Copyright 2014 CBS 5 (KPHO Broadcasting Corporation). All rights reserved.