CBS 5 Advocate
Frontier customers can pay expensive carry-on bag fees
Posted:
Updated: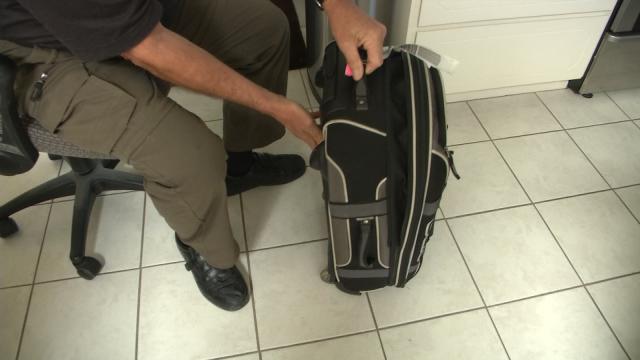 SUN CITY, AZ (CBS5) -
A Sun City man says he got an unpleasant surprise on a recent Frontier Airlines flight when he was charged $100 at the gate for his carry-on bag. The fee applies to certain tickets but some fliers may be unaware.
Airlines in the "ultra low cost" category offer really low fares but typically charge you for all the extras. Frontier has now entered this field, and if you buy a really low-cost ticket on Frontier through a third-party website, your carry-on bag can cost more than the fare itself.
"If I wanted to board, I'd have to pay that $100 fee," Richard Steele said.
Steele needed to fly from Detroit to Phoenix for his wedding anniversary. He found a great fare on Travelocity for Frontier Airlines. He was bringing the same carry-on bag he had used on previous Frontier flights.
"It would fit in the overhead luggage compartment on the airplane, so I just assumed that I would be able to board," Steele said.
But just as he was boarding, Steele says a Frontier rep pulled him aside and gave him bad news about the carry-on bag.
"I would have to pay an additional $100 fee. I asked him why and he really didn't give me a clear answer, but it was something to do with third-party booking," Steele said.
Since August 2013, if you buy what is called a "basic" ticket for Frontier through a third-party site (like Travelocity, Orbitz, CheapTickets, etc.), Frontier charges for carry-on bags. If you pay in advance at www.flyfrontier.com it's $25. If you pay at the ticket counter on the day of the flight it's $50. But if you forget altogether, you will most likely be pulled aside at boarding and the cost is $100.
"There are charges which are really hidden from the normal consumer and you need to be aware of these charges," Steele said.
Third-party sites don't provide a lot of detail on extra charges, so if you use one to buy a basic Frontier ticket, you better visit www.flyfrontier.com to pay for your carry-on bag before coming to the airport. Otherwise, like Steele, you will get a surprise at boarding.
"Beware: It may be dangerous to your financial health," Steele said.
Here is some more information regarding Frontier Airline carry-on baggage fees:
The charge only applies to "carry-on" bags that go in an overhead bin. With any Frontier ticket, you can still take on a free "personal" item, like a purse, laptop or backpack. If you pay the lower amount in advance and the carry-on is considered too big for the overhead bin, you will still be required to pay the $100 at the gate, minus what you've already paid. The charge only applies to the "basic" fare which can only be found on third-party travel websites, not on any fares available at www.flyfrontier.com. Third-party sites can also sell other Frontier fares that include a free carry-on.
Copyright 2014 CBS 5 (KPHO Broadcasting Corporation). All rights reserved.