Vandals destroy Boys and Girls Club van in Apache Junction
Posted:
Updated: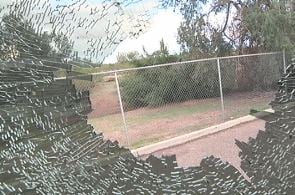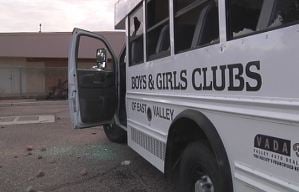 APACHE JUNCTION, AZ (CBS5) -
A group of east valley kids may have to sit on the sidelines for awhile after their only ride to and from activities was completely trashed.
"It's absolutely one of our limbs," said club director Laurie Armstrong.

But one of those limbs has been cut off after some vandals trashed this bus belonging to the Boys and Girls Club in Apache Junction.
"I think we counted 27 windows in all that were completely destroyed," Armstrong said.

They use the bus to pick kids up from school, take them to activities, and take them home. They believe the perpetrators did their damage sometime between Sunday afternoon and Monday morning.
"We had tears, we had kids feeling scared," Armstrong said.

The culprits threw rocks from a recreational trail the kids made.
"Who could be this horrible and mean, and do this kind of damage to the Boys and Girls Club?" Armstrong asked. "All we do is try to help children."
"I think it's pretty sad that someone would do this to the clubs," said 8-year-old Gabrielle Warner, who has been coming here since she was four. Since the club has a thousand dollar auto deductible they didn't budget for, Warner said any little bit helps.
"You can donate a little money to help us fix the van," Warner said.

In the meantime the club is borrowing a van from the Tempe location, but Armstrong said come Jan. 2, they'll be stranded.
"We're praying we can get this van fixed in the next couple of weeks before we come back," Armstrong said.

Copyright 2013 CBS 5 (KPHO Broadcasting Corporation). All rights reserved.