Foreclosure settlement funnels $20.7M to AZ
Posted:
Updated: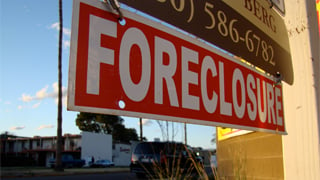 PHOENIX (CBS5) -
Arizona's portion of a national settlement reached with the country's fourth largest mortgage servicer over bad foreclosure practices totals $20.7 million, state officials said Thursday.
More than 10,000 people statewide could receive $1,000 per foreclosed loan, provided they submit valid claims, Arizona Attorney General Tom Horne said.
The settlement was ironed out with Ocwen Financial Corporation of Atlanta and its subsidiary, Ocwen Loan Servicing. The company has agreed to a $2.1 billion dollar joint state-federal settlement with Arizona, 48 additional states and the District of Columbia, and the Consumer Financial Protection Bureau.
The settlement terms address misconduct by Ocwen and two companies later acquired by Ocwen, Homeward Residential Inc. and Litton Home Servicing LP. Ocwen specializes in servicing high-risk mortgage loans.
Ocwen is now required to comply with tough new mortgage loan servicing standards. Nationally, Ocwen agreed to $2 billion in first lien principal reduction, and $125 million for cash payments to borrowers on nearly 185,000 foreclosed loans.
"What we found in the Ocwen case is similar to a lot of the problems we saw in our other mortgage servicer enforcement cases," said Attorney General Horne "This is part of our ongoing civil law enforcement effort to hold servicers, including Ocwen, accountable and ensure that they treat borrowers fairly."
The alleged misconduct resulted in premature and unauthorized foreclosures, violations of homeowners' rights and protections, and the use of false and deceptive documents and affidavits, according to a complaint filed in the U.S. District Court,
The settlement does not prevent homeowners or investors from pursuing individual, institutional or class action civil cases. None of the participating states, including Arizona, received direct payments under this settlement.
Under terms of the settlement:
Ocwen commits to $2 billion in first lien principal reduction.

Ocwen pays $125 million cash to borrowers associated with 183,984 foreclosed loans.|

Ocwen must follow comprehensive new mortgage loan servicing and foreclosure standards.

An independent monitor will oversee implementation of the settlement to ensure compliance.

Homeowners and investors can pursue individual, institutional or class action cases regardless of the agreement.

Ocwen pays $2.3 million for settlement administration costs.
Borrowers whose loans are serviced by Ocwen can contact Ocwen at 1-800-337-6695 or by email at mailto:ConsumerRelief@Ocwen.com to obtain more information about principal reductions and whether they qualify under terms of the settlement.
Copyright 2013 CBS 5 (KPHO Broadcasting Corporation). All rights reserved.