Casa Grande hospital mourns loss of surgeon in house fire
Posted:
Updated: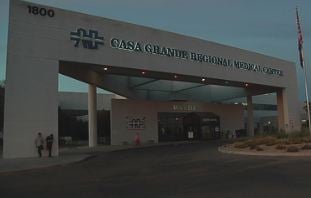 CASA GRANDE, AZ (CBS5) -
We're learning more about the family whose lives were claimed in a house fire in Casa Grande Friday. A husband, wife and their 11-year-old son are believed to be the ones who died.
Neighbors tried breaking a window and yelling inside when the fire erupted Friday morning, but by the time fire crews arrived, the house was fully engulfed. Dr. Joyce Bonenberger is the only one who has been positively identified as a victim so far, though it is believed her husband, Dennis Brough, and their 11-year-old son, Trevor Brough, also perished in the fire.
Bonenberger was the chief of surgery at the Casa Grande Regional Medical Center and they tell us they are trying to cope with such a significant loss.
"The doctors when they found out on Friday, 'Rona, it's going to be so difficult because they used to see Dennis and Trevor in the doctors' lounge for lunch or dinner," said Rona Curphy, CEO at Casa Grande Regional Medical Center. "Her husband, Dennis, was her office manager in her outpatient practice, so they did everything together."
"We had a patient bring flowers today which we put in our chapel because they wanted to reach out to the family in some way because they all loved her," Curphy said.

Curphy said Bonenberger pioneered a radiation treatment for breast cancer now widely used across the state. She was also passionate about education and home schooled their son. Curphy said her positive energy and compassion will be sorely missed.
"We'd lost someone who was loved in this organization and loved in this community," Curphy said.

The Pinal County Sheriff's Office said they're still investigating the cause of the fire. We're also waiting on autopsy results from the medical examiner's office.
Copyright 2013 CBS 5 (KPHO Broadcasting Corporation). All rights reserved.