Pipeline vital to Grand Canyon near a 'catastrophic failure'
Posted:
Updated: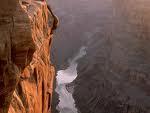 GRAND CANYON NATIONAL PARK, AZ (CBS5) -
For 16 days this past October, the federal government shut down "non-essential" services and agencies, including the Grand Canyon.
"There was no work to do with no guests to serve and it was absolutely devastating to our community," said Clarenda Vail, co-owner of the Red Feather Lodge.
But those running the national park say the shutdown was a walk in the park compared to what could happen if the park's only source of drinking water failed.
"Could you have this national park open without that pipeline and that water? Absolutely not," said Dave Uberuaga, the Grand Canyon Park superintendent.
"If we had a catastrophic failure, it could be weeks and weeks, and even longer and we'd have to evacuate," he added.
A complete loss of water at the Grand Canyon, Uberuaga says, would "jeopardize" day-to-day life.
"A town of 2,500 and 4.5 million visitors a year," Uberuaga would be evacuated from the park.
Only 3.2 million people live in the entire Phoenix-metro area. Imagine if none of them had water. It's a real possibility at the Grand Canyon, considering its 65-year-old Transcanyon pipeline.
"We're well past a 30- or 40-year useful life of this pipe," Uberuaga said.
The TCP draws fresh, spring water from a canyon at Roaring Springs, 3,000 feet below the North Rim. The water is then pumped 17 miles through the inner canyon from Indian Garden to the South Rim. Constructed in the 1960s, Uberauga says the TCP is Grand Canyon's only source of drinking water.
"Right now, that pipeline has been having multiple failures every year," Uberauga said.

It doesn't take much for the TCP to burst. There have been 17 breaks so far this year, costing, "on average, about $25,000 per break," Uberuaga added.
The breaks are increasingly severe.
"The whole pipe just peeled open ... and split and that just shows you're at another level of fatigue," Uberuaga said.
And the repairs? A "challenge" is putting it lightly.
"We're talking 10 miles down into the canyon," he said.
Because the pipeline is so remote, whenever there is a break there are only two ways to get to it: Mule train, or by helicopter, which makes the repairs even more expensive.
A break earlier this year tipped the scales in cost and complexity. It happened at the lowest point in the canyon, Phantom Ranch.
"This summer we had experienced four consecutive breaks in a row in July," said Jim Grant, the park's deputy chief of facilities management.
Those failures sent shockwaves through the canyon.
"We had to essentially shut down Phantom Ranch and limit visitor traffic into the Grand Canyon," Grant added.
And shutting down the popular destinations in the canyon is easier said than done. There's a year-long waiting list for the cabins at Phantom Ranch. And it takes four months for hikers to get into the park service-operated campsites in the canyon.
But tourists depend on those stops for more than just shelter.
"In the middle of the summer, if we didn't have water to draw from at each of these campsites then it'd be really hard, almost impossible," hiker Clint Evans said. "We'd have to carry more than we could probably carry to backpack."
Grand Canyon National Park Chief of Facilities Management Tim Jarrell put the state of the Transcanyon pipeline into very real terms.
"The pipeline is becoming more deteriorated than probably we really realize," he said.
If Uberauga could get his way, he says he would replace the entire Transcanyon pipeline, securing his park's future for another 50 or 60 years. We asked him how realistic that is.
"You know, we're talking $135, $140 million in the project and multiple years to accomplish that," he responded.

Copyright 2013 CBS 5 (KPHO Broadcasting Corporation). All rights reserved.
Pipeline vital to Grand Canyon near a 'catastrophic failure'

More>>

Monday, December 16 2013 11:35 AM EST

2013-12-16 16:35:33 GMT

The high court on Monday declined to hear an appeal from lawyers for the late Las Vegas businessman David Jin.

More >

The high court on Monday declined to hear an appeal from lawyers for the late Las Vegas businessman David Jin.

More >