UPDATE
Glendale man killed in crash involving MCSO vehicle
Posted:
Updated: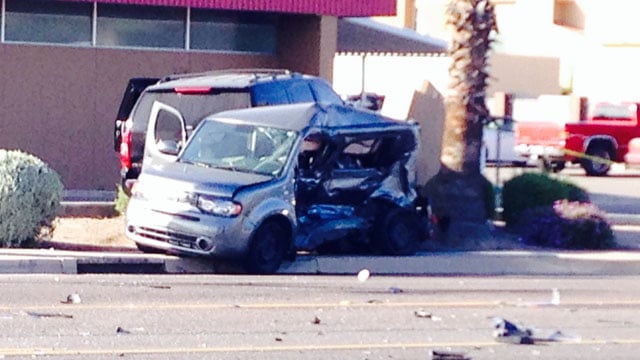 (Source: Greg Argos, cbs5az.com)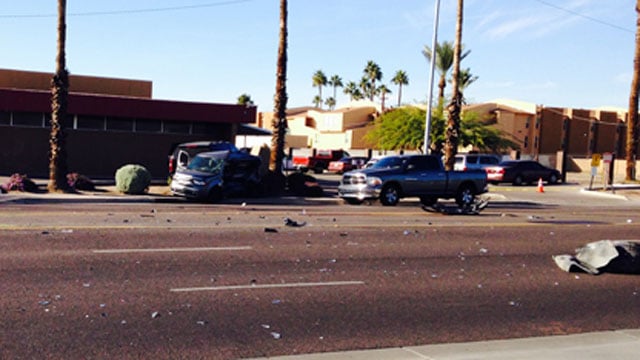 (Source: Greg Argos, cbs5az.com)
PHOENIX (CBS5) -
One person was killed after a Maricopa County Sheriff's Office vehicle collided with a car in the west Valley Monday afternoon, Glendale police said.
The victim, a civilian, was identified as John Edward Harding, 63, of Glendale. Photos show his driver's side door was crushed by the impact.
The driver of the SUV, on-duty MCSO Deputy Sean Pearce, was also hurt and taken to a local hospital, said Glendale police Sgt. Jay O'Neill. Sean Pearce is the son of former state Sen. Russell Pearce.
"Deputy Sean Pearce is on administrative duties recovering for the rest of the week. No one else is on leave," MCSO said Tuesday.
Pearce is a 20-year veteran with the Maricopa County Sheriff's Office. He is assigned to the Special Investigations Division/Violent Crimes Unit, according to his LinkedIn page.
A witness told CBS 5 News that she saw multiple law enforcement officers climb out of the unmarked MCSO SUV.
The accident occurred at 59th and Hayward avenues, just south of Northern, about 1:20 p.m.
Glendale police said the SUV and a silver unmarked MCSO pickup were traveling northbound on 59th Avenue in the center lane.
MCSO spokesman Joaquin Enriquez told CBS 5 News the deputies were "following up on a tip about a violent criminal."
Harding was attempting to make a left-hand turn off Hayward when the collision occurred, according to police.
The SUV pushed Harding's vehicle about 30 yards before coming to a stop.
One witness said the MCSO vehicles were traveling so fast, they were kicking up dirt and dust.
Investigators disputed that account.
"At this time, detectives do not believe speed or impairment are factors," O'Neill said in a police statement.
The intersection at 59th and Northern avenues is closed while the investigation continues.
The Glendale Police Department Vehicular Crimes Unit has taken over the investigation.
No other information is available at this time.
Stay with cbs5az.com and CBS 5 News for updates on this developing story.
[Click here to sign up for breaking news alerts]
Copyright 2013 CBS 5 (KPHO Broadcasting Corporation). All rights reserved.