CBS 5 Advocate
Consider protecting storage unit property through insurance
Posted:
Updated: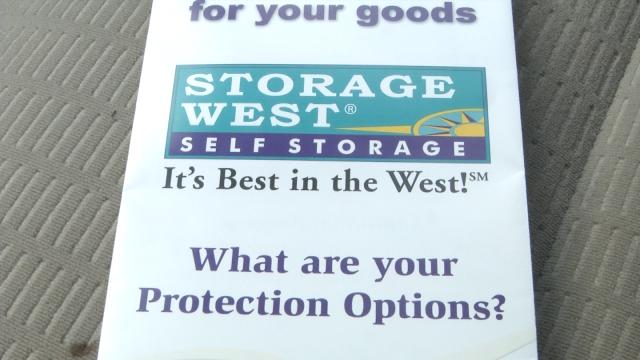 CASA GRANDE, AZ (CBS5) -
A Casa Grande man says a storage company is not living up to its promise to pay for damage to his property. This case calls into question the best way to protect belongings in a storage unit.
One way to protect belongings in a storage unit is through an existing renter's or homeowner's insurance policy where you live. Another way is to pay for protection offered by the storage facility itself.
"What they should do is settle the claim," Jim Robertson said.
When Robertson lost his home several years ago, he put all his personal belongings in a unit at the Storage West facility in Tempe. He was finally moving his belongings out in June 2013 when he says he discovered a leak in the unit's roof.
"This situation allowed material inside the unit to become wet and soggy which encouraged termites," Robertson said.
Robertson says some furniture was damaged and his extensive book collection was ruined. He was paying Storage West nearly $10 a month for a protection plan to cover this type of loss up to a maximum of $2,500. Robertson says Storage West promised by email to pay him the full $2,500 but later sent him a release agreement to sign that didn't specifically state that.
"They refused to include that they would actually pay me in the agreement, which I found to be very suspicious," Robertson said.
Robertson feels signing the release would unfairly limit his rights in the future. His continuing battle to get Storage West to settle his claim brings into question whether there is a better way to protect belongings in a storage unit.
"Put your belongings on your home or renter's policy irrelevant of the cost," Robertson said.
Third party insurance policies are more expensive, but you won't have to deal with the storage unit facility in handling your claim.
"It's worthwhile if you pay a little bit more, because you get a settlement, you don't go through the aggravations," Robertson said.
With most insurance companies, the contents of a separate storage unit is automatically covered under your homeowner's or renter's policy, but your deductible will apply.
After CBS 5 News contacted Storage West, the company apologized for the confusing wording in the release, they re-wrote the release, Robertson signed it, and Storage West delivered to him a check for $2,500. Here is the company's statement to CBS 5 News:
"The company has already begun re-drafting the release form that Mr. Robertson quite legitimately felt was overly legalistic and difficult to understand. Storage West strives to provide the best possible service to its tenants. The wording of the release document fell short of that standard, and the company thanks Mr. Robertson and CBS 5 News for raising the issue so it can be corrected."
CBS 5 News thanks Storage West for working to bring this matter to an appropriate conclusion.
Copyright 2013 CBS 5 (KPHO Broadcasting Corporation). All rights reserved.