Judge publicly reprimanded by state commission
Posted:
Updated: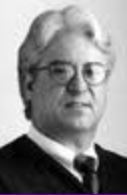 © Judge Crane McClennen, Courtesy: superiorcourt.maricopa.gov
PHOENIX (CBS5) -
A county judge is in trouble after the state Commission on Judicial Conduct said he made inappropriate and political remarks from the bench. But some are calling his punishment too light.
Judge Crane McClennen serves in the lower appeals court. While he isn't losing his spot on the bench, he has been reprimanded.
After the Maricopa County Attorney's Office filed a complaint against McClennen, the Commission on Judicial Conduct investigated and declared he has, in fact, made inappropriate, sarcastic comments from the bench.
According to the complaint, McClennen said the prosecutor "sat there like a bump on a log" and that county attorney Bill Montgomery must be too busy "going after illegal aliens and people smoking pot" because his staff wasn't prepared.
McClennen did not wish to appear on camera but said he has no ill will toward the county attorney's office. He said he was just concerned with their lack of preparedness, and that if he made fewer political comments, we wouldn't be having this conversation. But CBS 5 News has learned this isn't the first time McClennen has been in hot water.
"He was accusing me of not answering his questions. He impugned my integrity," said defense attorney Eleanor Miller. She filed a complaint against McClennen last year, and the commission publicly reprimanded him after looking into it.
In 2002, McClennen was also privately reprimanded for similar conduct.
The commission originally recommended a harsher penalty for McClennen this time around, but it didn't stick.
"I think it's a slap on the wrist," Miller said.
The county attorney's office declined comment and the Commission on Judicial Review said no one would be available so late in the day.
In 2012, when McClennen was up for retention, the Commission on Judicial Performance Review voted unanimously that he met the standards.
Copyright 2013 CBS 5 (KPHO Broadcasting Corporation). All rights reserved.