Better Arizona
Arizona woman writes book with her father about their family's battle with cancer
Posted:
Updated: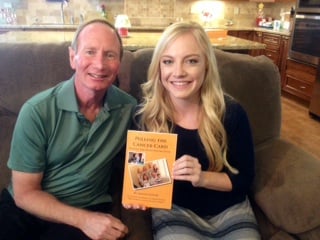 CHANDLER, AZ (CBS5) -
When CBS 5 News first interviewed 27-year-old Amanda Kahler this past summer, she was planning a fundraiser that would also include a father-daughter dance.
Her father, 55-year-old Joe Kahler, has an aggressive form of appendix cancer and the family has no idea how much time he has left.
Amanda and her younger sister wanted to have that special daddy-daughter dance that their older sister had at her wedding, but that they knew they might not have at theirs.
"I was so touched. It was something I never thought about until you're diagnosed and all the things you're going to miss in the future," Joe said about the event.
"Overall best moment of my life, by far," Amanda added.
In the two years since Joe's diagnosis, Amanda said she realized their journey was no longer just about them.
"People want to hear this story. People are looking for this story for whatever reason. So I wanted to get the message out there and help others who are dealing with similar difficult situations because it's not easy," she said.
The family raised $15k with the dance, which they donated to other families dealing with cancer and to appendix cancer research.
At the event, she also unveiled a book she and her family wrote together to help others trying to cope with the disease.
"I have tips in there like, 'it's OK to be upset. Find time to help others. Find time to help yourself.' Little things that people sometimes overlook or don't realize can go a long way," she said.
Joe said his message in the book is very simple. "My message is, I'm here because I'm helping people and as long as I'm helping people I figure that's my purpose."
Father and daughter have actually written a book together before, about transitioning into college.
But Amanda said the hardest part about this new book was coming up with a title.
She said she chose Pulling the Cancer Card because it's been her family's humorous approach to the "C" word.
"My dad will say, 'I'm pulling the cancer card, you're doing the dishes!' So it's those kinds of moments when it's using lighthearted things to get through each day."
Amanda would like to start speaking to groups and sharing her family's story about coping with cancer.
To reach out to her about a speaking engagement or to purchase a copy of the book, click Pulling The Cancer Card.
Copyright 2013 CBS 5 (KPHO Broadcasting Corporation). All rights reserved.