KC among 100 cities where fast-food workers strike
Posted:
Updated: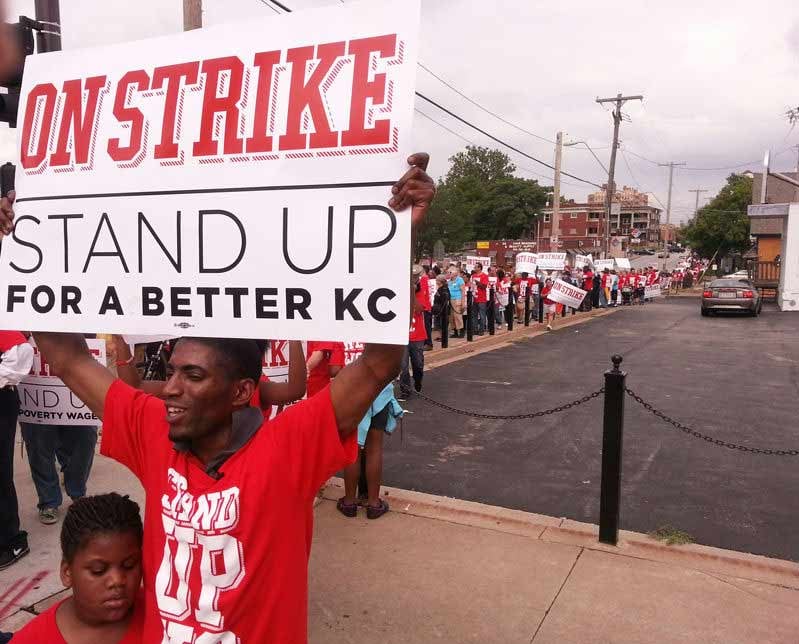 KANSAS CITY, MO (KCTV) -
Thousands across the nation took to the streets once again to call for higher wages for fast food workers. That included protests in the Kansas City metro.
Organizers say the strike is the largest effort yet to push for higher pay.
The workers gathered at Manheim Road and Troost Avenue at St. Mark's Lutheran Church Thursday morning to kick off the strike. They started with a brief prayer vigil before heading out to various fast food restaurants across the metro. Many of them are keeping the faith that their efforts will build stronger families.
At work, Terrance Wise makes sure people are fed. At home, he struggles to feed his own family.
"It's taking two jobs to make ends meet. Well, try to make ends meet," Wise said.
Family time is split between two jobs at Burger King and Pizza Hut. At $7.47 an hour at one and $9.40 at the other, Wise says he has no choice but to work 70 hours a week.
"We have people going to work every day and coming home to no utilities or having to make tough decisions on whether to eat or pay rent. But they go to work and work hard every day, and they're good at their jobs and these companies should take care of their employees and do better. We know that they have the profit," he said.
He went on strike for the third time this year. It's part of a nationwide movement fast food workers began a year ago to increase federal minimum wage from $7.25 an hour to $15 an hour. They also want a labor union.
Marlasha Wells also raised her voice for a minimum wage increase. Instead of going to work at her job at Popeyes that pays $7.50, she joined a Stand Up KC rally outside a McDonald's on Independence Avenue.
"I love my job. I just work really hard and I think we deserve more," she said.
Wells said she makes a little more than $1,000 a month at her fast food job and doesn't use government assistance. It's cost her the higher education she needed to make more money.
"I had to stop going to school just so I could maintain a job. Just going to school, I didn't have money to support my daughter. Christmas is coming around, birthdays is coming around," she said.
"We're very confident that the corporations have heard us loud and clear," said Gina Chiala, a spokesperson for Stand Up KC.
Chiala says some stores are already paying up.
"Some workers have received small wage increases and some have received better hours, more consistent hours," she said.
Still, she says corporations are powerful opponents and this is no easy battle, but the small grassroots effort is growing strong support.
"So many workers and organizations know that if we don't change the trajectory in this country toward poverty wages and industries that make billions of dollars, the gap between the rich and poor is just going to grow," Chiala said.
For Wise, it all comes down to giving his growing daughters the basics.
"I probably wouldn't have to work as much or work two jobs and be able to have more time with my girls and raising my family and working a normal day, and be able to come home and be with my fiancée and my kids," he said.
During similar strikes in recent months, some restaurants were briefly unable to serve customers and others seemed unaffected.
The industry says it has created jobs in a difficult economy. In response to the strikes, the National Restaurant Association, one of the biggest lobbying groups in the country, said in a statement, "Dramatic increases in a starting wage such as those called for in these rallies will challenge that job growth history, increase prices for restaurant meals, especially in the value segments and lead to fewer jobs created."
The National Restaurant Association also pointed out that only 5 percent of fast food workers earn minimum wage and most are under 25.
Copyright 2013 KCTV (Meredith Corp.) All rights reserved.