Passer-by risks life, saves child from burning home
Posted:
Updated:
By Joseph Wenzel IV, News Editor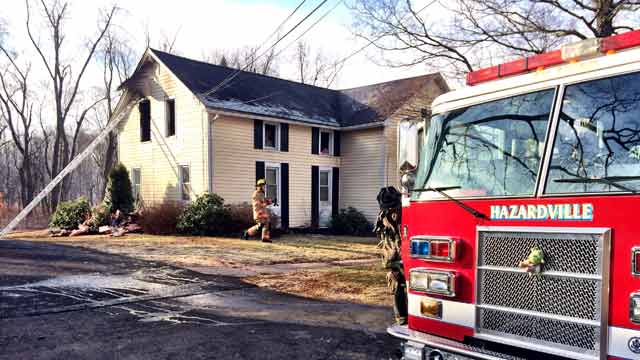 An iWitness sent this photo in from the fire in Somers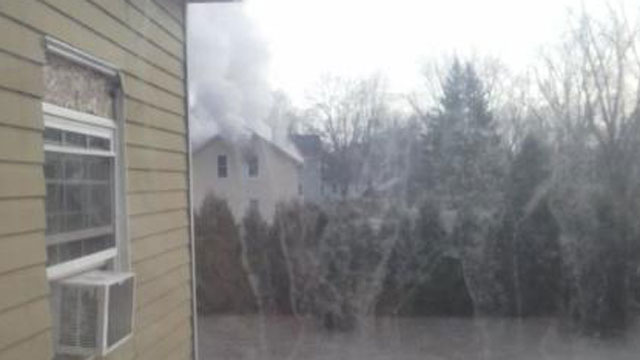 An iWitness sent this photo in from the fire in Somers
SOMERS, CT (WFSB) -
A passer-by in Somers was hailed as a hero by the grandmother of a 7-year-old girl who was rescued from a burning home.
The dramatic incident began just after 8 a.m. at 68 Main St.
Officials said Fred Levesque was driving on Main Street and on his way to the gym, when he noticed the fire at a four-family home.

In the apartment, 7-year-old Kerra Colgan and her mother, Katie Colgan, were in adjacent bedrooms and unable to get out of the residence.

Levesque was able to break open a back door at the multi-family home. Once inside, Levesque went up a back staircase and crawled under thick smoke to rescue Kerra Colgan.
Officials said as they arrived Levesque was walking out with the child. Crews were able to rescue the barely conscious 30-year-old Katie Colgan from the building and revived her.
The mother and girl were both brought to a local hospital with an unknown amount of burns and smoke inhalation. Then, they were transferred to a hospital in Boston.
Moments after rescuing the two people, Levesque ran away from the media and didn't accept any requests for interviews.

The grandmother of the child, Karen Harvey, said she wants the mystery man to come forward so she can personally thank him for what he did.
"Whoever you are, I want to thank you," Harvey said. "Thank you so very much. Please come forward, so I can thank you myself."
Another tenant in a different apartment had already escaped on their own. The two other apartments were empty at the time.
State and local officials said the fire appears to be accidental, but they were still trying to determine the cause.

Copyright 2013 WFSB (Meredith Corporation). All rights reserved.