UPDATE
Brewer creates committee to probe CPS abuse cases
Posted:
Updated: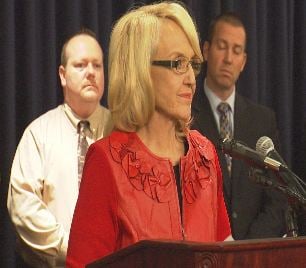 PHOENIX (CBS5) -
Gov. Jan Brewer has created a new independent team to oversee the investigation of thousands of child abuse complaints that were never investigated.
State Sen. Kate Brophy McGee, R-Phoenix, said that something had to be done to win back the public's trust.
"My read on the public's trust of this institution - is that there is none," said McGee. "They will bring transparency to an agency that has been cloaked in secrecy and integrity to a process that appears corrupt."
Brewer announced details of the new oversight team, called CARE (Child Advocate Response Examination), at a news conference at the state Capitol on Monday.
"Failure to investigate even one of the thousands of cases of potential child abuse is absolutely inexcusable," Brewer said. "We're going to do everything we can possibly do to get to the bottom of these 6,000 investigation cases. We want eyes on each and every one of them so these things don't happen ever again in state of Arizona."
The team comprises an assortment of child advocates and current lawmakers who will oversee CPS staff to ensure each case is thoroughly investigated while identifying areas of concern.
Charles Flannigan, the director of Arizona's Juvenile Corrections Dept., will be the chairman of the CARE team.
"This is about vulnerable children," said Flannigan. "This is about ensuring their safety and identifying systems and processes that prevent something like this from ever happening again."
Other members include Arizona state Sen. Leah Landrum Taylor; Arizona state Rep. Kate Brophy McGee; Robert Bell, children's justice coordinator at the Childhelp Children's Center of Arizona; Cindi Nannetti, a veteran prosecutor with the Maricopa County Attorney's Office; Deb Gullett, child advocate and former legislator; Greg McKay, chief of the Office of Child Welfare Investigations (OCWI); Jan Strauss, a former Mesa police chief; and a yet-to-be-identified CPS representative.
"That diversity, I think, really ensures the independence of this team and the task that we've been charged with," said Bell.
Child advocacy groups have been critical of how state officials and the governor have responded to the CPS mess, demanding more transparency and oversight.
Taylor told CBS 5 that an independent investigative team was absolutely necessary.
"We don't want to have a situation where it seems like the fox is guarding the henhouse," said Taylor. "We have to make sure that each of these cases are going to be reviewed and the lives of children protected."
A website is also in the process of being built that will allow the public to see, in real time, how many of these previously neglected CPS cases have been investigated.
Clarence Carter is director of the state's Department of Economic Security, which oversees CPS. Carter attended Monday's news conference, but he did not make any public statements.
CBS 5 News asked Brewer about calls for Carter's resignation, but the governor walked away and left the room.
Moments after the governor walked out, she walked back in and told reporters that she supports Carter and that he's done a fine job.
The new independent CPS panel is in addition to the CPS oversight committee that's been in place for more than a year.
Rep. Debbie McCune Davis, D-Phoenix, said the governor's CARE team is a step in the right direction, but she wants to see it include child welfare experts.
"From the first reports of the unexamined CPS cases, my colleagues and I have been calling for an independent, multidisciplinary investigation of CPS," she said. "The governor's announcement today is a step in the right direction. However, CPS is an agency in crisis and the CARE Team must now identify what problems contributed to this disaster and find ways to prevent something like this from ever occurring again. With that in mind, I urge the governor to add more child welfare experts to the team. Such professionals have the kind of experience needed to truly assess the problems and find real solutions that protect Arizona children."
Copyright 2013 CBS 5 (KPHO Broadcasting Corporation). All rights reserved
UPDATE

Brewer creates committee to probe CPS abuse cases

More>>

Wednesday, June 11 2014 10:06 AM EDT

2014-06-11 14:06:08 GMT

READ: When kids outgrow CPS, many leave with nothing READ: Report shows Child Protective Services struggling READ: CPS team looks to enhance hotline WEBSITE: Info on becoming a foster or adoptive parent READ:

More >

READ: When kids outgrow CPS, many leave with nothing READ: Report shows Child Protective Services struggling READ: CPS team looks to enhance hotline WEBSITE: Info on becoming a foster or adoptive p

More >