UPDATE
PD: ASU student-teacher 'friended' teen that led to sex act
Posted:
Updated: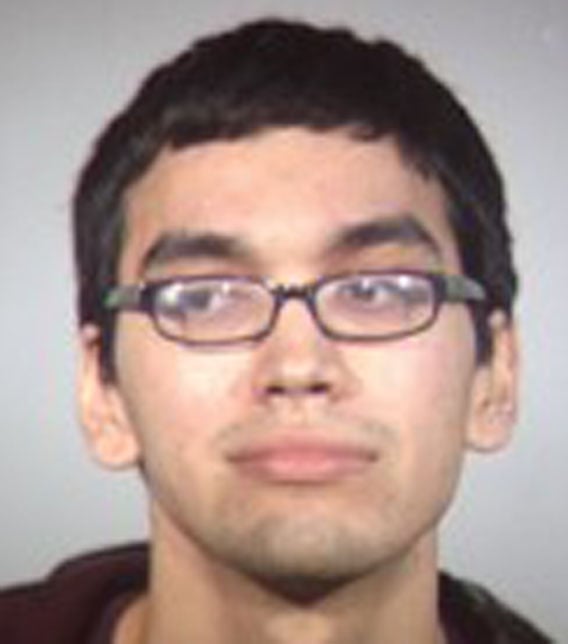 Joel Calderon (Source: Tempe Police Department)
TEMPE, AZ (CBS5) -
An Arizona State University student-teacher is in jail on suspicion of sexual misconduct involving a 16-year-old student at a high school where he was placed, Tempe police said.
Joel Calderon, 26, was arrested Tuesday at his home, according to Tempe police Sgt. Mike Pooley. Officials confirmed he was fired in the aftermath of his arrest.
He faces six counts of sexual conduct with a minor, all involving the same 16-year-old victim, Pooley said. It's believed the alleged incidents occurred at Calderon's home on multiple occasions and not at the school, according to Pooley.
Calderon had been assigned to Tempe High School since the beginning of the school year, Pooley said. He met the victim in the math department where he worked, Pooley said.
The school was notified of a possible inappropriate relationship by an unrelated student at the school, according to a probable cause statement.
The Tempe High School administrator notified the Tempe School District and the district superintendent of human resources interviewed Calderon before calling police.
During the interview, Calderon admitted to "making out" with the victim and touching her private parts during two separate incidents when she spent the night at his home, the court document said.
Police interviewed Calderon on Nov. 25 and he admitted to other inappropriate sex acts, some dating back to the weekend of Nov. 1. None of the acts involved intercourse, according to the document.
Calderon "friended" the victim and other students on Facebook during his tenure at Tempe High School and during the Facebook chats, he made several references to how "inappropriate" it was for him to contact students outside of class, the court document stated.
He also wrote in the chats that he would not be considered a teacher because he was not employed by the high school.
Calderon's cousin, who didn't want to be identified, told CBS 5 News he hadn't seen his roommate in days.
"I'm not terribly happy about it I guess," said Calderon's cousin.
Calderon's cousin said it wasn't until his arrest that he found out the girl was 16 years old. The cousin told CBS 5 News he didn't know the victim well.
"I saw her once but to be honest I don't hang out here too much," said Calderon's cousin.
On campus many of the kids seemed disappointed to learn about the arrest.
"That just makes our school look bad," said Tempe High School student Gary Brewer.
The following letter was sent from Tempe High School Principal Mark Yslas to parents in the district on Monday afternoon:
Dear Parents/Guardians,
Because the safety and security of all Tempe High School students are among the highest priorities of our district, I wish to make you aware of a recent incident which resulted in a Tempe Police Department investigation and subsequent arrest.
An Arizona State University student teacher who was placed at Tempe High School in the math department was arrested at his residence for "sexual conduct with a minor". Upon being made aware of the possible relationship Tempe High School administration immediately contacted Tempe Police. Tempe Union High School District notified Arizona State University of the allegations made against their student teacher and he was relieved of all duties and removed from campus.
The District's Governing Board and administration do not tolerate inappropriate conduct by any staff member and/or student teacher and we are fully cooperating with Tempe Police Department in its investigation of any additional allegations. You may see television news reports or other media coverage regarding this issue. Should you have additional information regarding the investigation, please contact the Tempe Police Department non-emergency line, 480-350-8311.
Calderon's next court date is Dec. 5.
The investigation is ongoing with additional charges possible.
So far, only one victim has stepped forward. People who have any additional information are asked to call the Tempe Police Department at 480-350-8311.
Copyright 2013 CBS 5 (KPHO Broadcasting Corporation). All rights reserved.
UPDATE

PD: ASU student-teacher 'friended' teen that led to sex act

More>>

SLIDESHOW: Butler's home


More >