Bridgeport emergency staff bring man Thanksgiving dinner after his was stolen
Posted:
Updated:
By Joseph Wenzel IV, News Editor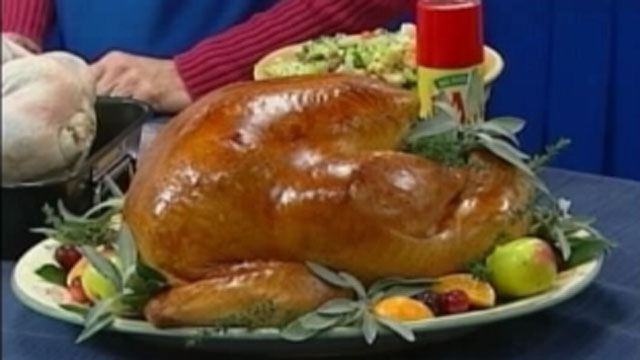 BRIDGEPORT, CT (WFSB) -
Bridgeport 911 dispatchers and a police officer spread some holiday cheer to a robbery victim on Thanksgiving Day after receiving an unusual call.
Jimmy Mulligan was walking on Pequonnock Street on Thanksgiving night ready to celebrate the holiday The short walk from his house, which is not even a mile long, was interrupted by two masked suspects.
"(They) held a gun to my back and told me to let go of the turkey," Mulligan said.

The suspects took off with the holiday turkey and trimmings Mulligan was carrying, along with the man's wallet, which had $97 in it. However, more importantly, the wallet contained one of the last links to his mother.
"It unfortunately had a prayer card from my mother's funeral service back in December," Mulligan said.
Mulligan called police.

"At first I thought he was joking, but I could hear from his voice that he was serious," telecommunications operator Denny Viera said in a statement.
Here is what was said during the emergency call:
Mulligan: Just now. They took my turkey, a bag of stuffing.
Viera: They took your turkey?
Mulligan: Yeah, they took my turkey
Viera wanted to help. She called a grocery store, but there were no turkeys left. Also, time was running out to cook a new turkey.
"She felt really bad and said to her peers in the room, we should get him a turkey," said Doree Price, who is the Bridgeport Public Safety Director.
Viera and her coworkers chipped in and within an hour, $25 was raised. They bought the victim and his friend food from Boston Market. Officer Daniel Mendez delivered the meals.
"When he gave them the meals, Danny said they were the happiest guys on earth," Viera said.
Mulligan said its a Thanksgiving he will never forget.
"He shows up honking the horn," Mulligan said. "I come downstairs thinking he got the two suspects, but he gets out of the patrol car with two Boston Market dinners for me and my friend."
Bridgeport Mayor Bill Finch released a statement on the actions of city dispatchers and a police officer.

"I can't say enough about the compassion and empathy shown by the men and woman who work in the 911 center. It's is a difficult job. When they answer the phone, usually they are speaking to someone in crisis. Denny did her job well, got police to the scene and then thought, "I want to do more." She and her colleagues rallied around this man and brightened his Thanksgiving," the statement read.
No arrests have been made in the armed robbery. The suspects are two men both in their late 20s or early 30s and were wearing white biker masks with a tribal design.

Anyone with any information about similar crimes is asked to call the Bridgeport Police Department at 203-576-8126 or text information to CRIMES (274637) then TIP717 in the body of the text message. All calls will remain anonymous.
Copyright 2013 WFSB (Meredith Corporation). All rights reserved.