UPDATE
Tucson chief: Captors methodical in keeping girls isolated
Posted:
Updated: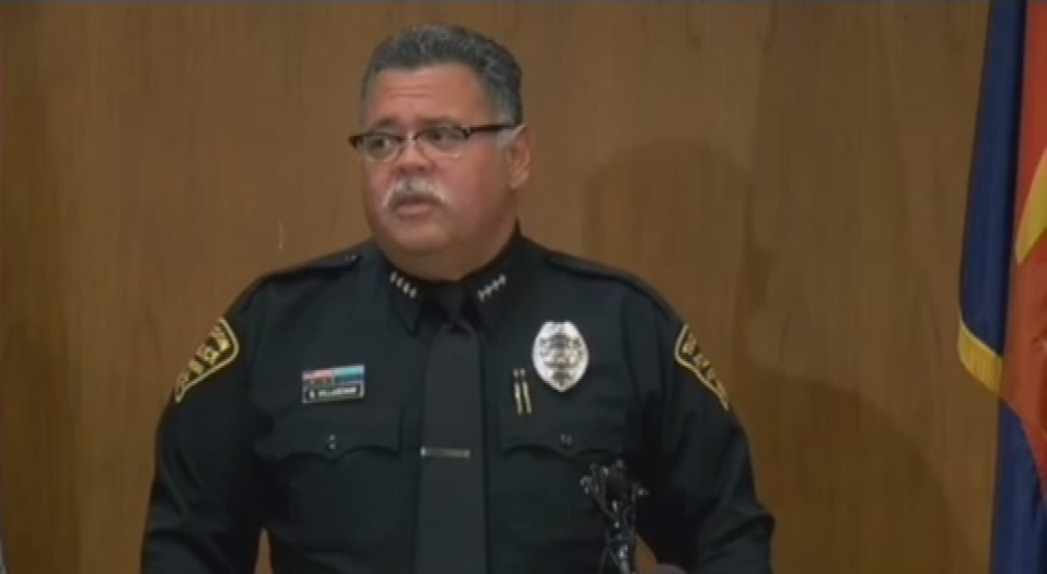 Tucson police Chief Roberto Villasenor provides details surrounding the imprisonment of three young girls at a Wednesday news conference. (Source: CBS 5 News)
TUCSON, AZ (CBS5) -
Three young Tucson girls imprisoned in separate sealed bedrooms had their movements controlled by 24-hour video surveillance, and were subjected to a constant barrage of music and static over more than 18 months of captivity.
Much of their alleged abuse was recorded in a written journal kept by one of the children.
Tucson police arrested the girls' natural mother, 32-year-old Sophia Richter, and her husband, 34-year-old Fernando Richter on Tuesday after two of the girls escaped through a window about 4 a.m. and alerted a neighbor their stepfather was armed with a knife and trying to break down the door to their room, Tucson Police Chief Roberto Villasenor said during a news conference Wednesday morning.
Fernando Richter, who refused to speak to police, was arrested on three counts of kidnapping, three counts of child/emotional abuse, three counts of child/physical abuse and one count of sexual abuse with a person under 15 years of age. Sophia Richter was arrested on three counts of kidnapping, three counts of child/emotional abuse, and three counts of child/physical abuse.
Villasenor said additional charges are possible, pending the outcome of the investigation.
A $100,000 bond was set for Fernando Richter and a $75,000 bond for Sophia Richter.
The two girls, ages 12 and 13 were unkempt, covered in dirt and grime, and malnourished when found by Tucson police at the neighbor's house, Villasenor said.
Officers later found the 17-year-old sister in a bedroom in the house, which they said was layered in filth and had signs of physical and psychological abuse, Villasenor said.
The girls were interviewed separately, and the oldest child had a satchel which contained a "detailed journal that had written records" from the past 1 1/2 years and a picture of Latin star Enrique Iglesias, Villasenor said.
The girl said the picture was probably her most prized possession, and that police made it a priority to get it back to her Tuesday night.
"She was completely overjoyed when we did that, so obviously Mr. Iglesias is an important aspect for her and helped her psychologically deal with this situation," Villasenor said.

Villasenor said the evidence indicates the validity of what kids told detectives.
"I asked (investigators) point-blank, 'do you think these things occurred?' The overwhelming impression is that these kids were telling them the truth."
He said evidence found in one of the bedrooms supports their story, particularly about how, when and where they went to the bathroom, and how and what they were fed.
Villasenor said the girls were fed goulash – "a noodle-based food with sausage meats of some kind and a lot of oil." The girls were responsible for cleaning up the one set of plates they were given the whole time.
Villasenor said the two youngest children were kept in one bedroom adjacent to another with their older sister. He said statements made by the girls, such as comments about their change in appearance and statements they had not seen each other for a long period of time, after when they were reunited gave validity to their claims.
He said officers recovered evidence from residence of technological and psychological means of keeping them captive, but didn't elaborate. He said the house had alarms on the exterior and doors of bedrooms so there would be an immediate notification if someone tried to leave or intruded, and that the girls' rooms had 24/7 video surveillance.
"The surveillance was useful when the children had to go to the bathroom," Villasenor said. "They would bring them out one at a time. They had the hallway partitioned off so they could not see (the immediate surroundings)." Sometimes, the children were denied permission and what that happened, they used the closet, he said.
Villasenor said the rooms were sealed around the ductwork and that towels were stuffed under the doors. They were sealed so tight, officers couldn't hear the music until they were right at the doors. The music played 24/7 and the speakers were pointed toward their beds, the chief revealed.
He said it appeared the girls had not been bathed or cleaned for quite some time.
Officials cleaned and fed the children, but, "Our highest priority was putting them in a safe and secure environment so they could be together," he said.
Villasenor said the family had lived at the home since August, and previously lived in Pinal County from March 2011 to August.
Villasenor said law enforcement officials have had previous contact with Fernando Richter, once when he reported being chased by juvenile boys and another alleging that he had been robbed. Villasenor did not specify when those incidents were reported.
He said some people in the neighborhood had no idea the children were at the house.
The Richters have been married for three years, but have been together for at least a decade, Villasenor said. He said investigators have been unable to support the mother's claims that the girls were home schooled. He did say police found no record of enrollment in nearby schools.
The two young girls were given the courage to escape when the stepfather tried to break the door of their bedroom to get in while brandishing knife. Villasenor said there were locks on the inside of the doors, but that the manner they were kept captive was not necessarily by locks, but said he wouldn't elaborate.
He said the girls knew each other was there, but hadn't seen each other for a long time.
The medical examiner said the growth patterns of the girls during the time of their captivity wasn't that abnormal, Villasenor said.
The investigation is continuing.
Copyright 2013 CBS 5 (KPHO Broadcasting Corporation). All rights reserved.
UPDATE

Tucson chief: Captors methodical in keeping girls isolated

More>>

Tuesday, December 3 2013 4:52 PM EST

2013-12-03 21:52:06 GMT

TUCSON CHILD ABUSE ONLINE COVERAGE:

More >

TUCSON CHILD ABUSE ONLINE COVERAGE:

More >