Auto repair sting at Gilbert shop results in $28K judgment
Posted:
Updated: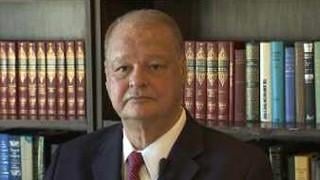 Arizona Attorney General Tom Horne (Source: CBS 5 News)
PHOENIX (CBS5) -
An undercover sting operation has resulted in a $28,000 consent judgment against an Arizona auto repair corporation, the Arizona Attorney General's Office said Wednesday.
Consumer complaints led a state agent to one of Fletcher's Tire and Auto Service, Inc. multiple auto repair locations, this one in Gilbert.
On March 7, an undercover agent took a vehicle needing a minor repair to its air conditioning system to the shop at 1535 N. Burk St.
In the complaint, the state alleges the manager told the undercover agent that the inner seal of the compressor was leaking and recommended a $900 replacement, even though no diagnostic test was performed that would show a leaking seal.
The non-defective compressor was replaced at a cost of $860.13. The undercover operator was also charged $20 each for three supplemental parts warranties without his consent, the state alleges.
The Consent Judgment states that Fletcher's violated the Arizona Consumer Fraud Act by recommending, performing and charging for the unnecessary repair to the state's undercover vehicle, as well as charging for a part that was not actually replaced, and for adding the warranty charges without permission.
Fletcher's will pay the State $20,000 in civil penalties and $8,265.63 in costs, attorneys' fees and restitution.
Fletcher's has also agreed to voluntarily institute a "secret shopping" program designed to monitor and prevent unfair or deceptive practices, and report the results periodically to the Attorney General's Office.
Copyright 2013 CBS 5 (KPHO Broadcasting Corporation). All rights reserved.