Students: ASU giving us cold shoulder, dorm without heat
Posted:
Updated: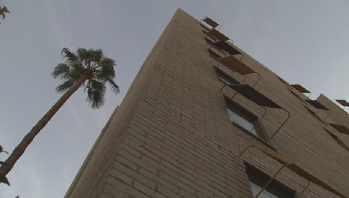 (Source: CBS 5 News)
TEMPE, AZ (CBS5) -
Lows have been dipping into the 50s for several weeks, but the heat at Cholla Hall on the campus of Arizona State University likely won't be turned on until next Monday.
The heat has been turned on at other dorms on campus.
Students told CBS 5 that their rooms are so cold they're doing things like wearing layers.
"Yesterday I had on a heated blanket, pants, socks, a sweatshirt and my shirt over that," said sophomore Desirai Browning.
Some students said they had been turning their ovens on overnight for heat. Students said it had been that way for at least two weeks.
"There are finals going on right now and it is impossible to study in your room when it is cold," said senior Grzegorz Filus.
CBS 5 asked the front desk why the heat hadn't been turned on. A student there told us her boss said to tell residents the following:
"Turning on the heat is a three-day process that requires constant monitoring and can result in other more serious maintenance issues. As a result the heat will be turned on Monday, Dec. 2."
"I'm not paying like a monthly utility bill, but you know we are paying tuition and housing costs, so you know it would be nice to feel like I'm actually living indoors," said junior Ren Andres.
CBS 5 also reached out to ASU officials. They issued the following statement:
"University Housing expects the heating system at Cholla residence hall to be fully operational by tomorrow afternoon. We are working diligently to accommodate our students' needs and are providing space heaters to residents until we have successfully remedied the situation."

Copyright 2013 CBS 5 (KPHO Broadcasting Corporation). All rights reserved.