OJ Simpson loses bid for Vegas robbery retrial
Posted:
Updated: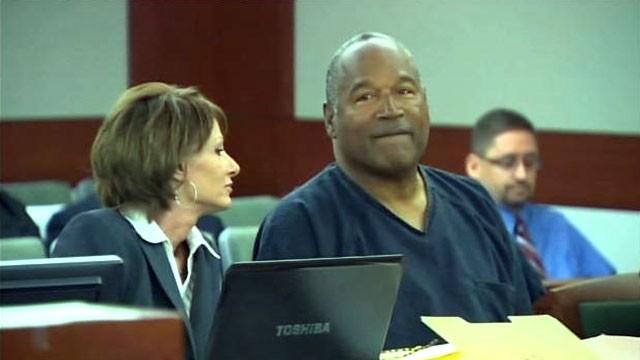 O.J. Simpson was back in a Las Vegas courtroom in May, asking for a new trial after being convicted of robbery and kidnapping in 2008. (FOX5)
LAS VEGAS (FOX5) -
Clark County District Judge Linda Bell on Tuesday denied O.J. Simpson's bid for a retrial following his 2008 conviction for robbery in connection with a September 2007 incident at the Palace Station hotel-casino.
Bell wrote in her decision, "Mr. Simpson's post-conviction petition claims are denied because Mr. Simpson failed to demonstrate that counsel experienced an actual conflict of interest that substantially impacted counsel's performance at trial."
A new defense team earlier this year argued on Simpson's behalf, claiming his previous counsel botched his case, leading to his conviction.
"Mr. Simpson also failed to establish that the state withheld exculpatory evidence. Finally, Mr. Simpson failed to establish that appellate and trial counsel were ineffective or that any deficient performance by counsel resulted in prejudice," Bell continued in her decision.
"Given the overwhelming amount of evidence, neither the errors in this case, nor the errors collectively, cause this court to question the validity of Mr. Simpson's conviction," Bell concluded.
The Nevada Supreme Court denied a 2010 appeal by Simpson on similar grounds.
Simpson, a former football and film star, is serving nine to 33 years in prison. A jury found him guilty of robbing two sports memorabilia dealers at gunpoint at Palace Station. Simpson argued his attorney, Yale Galanter, provided poor legal advice during his trial. Simpson also argued that because Galanter was aware of his plan to retrieve sports memorabilia prior to the incident, he should have recused himself.
"The thrust of the legal tactic here seemed to be the conflict between him and his lawyer, Galanter, because, supposedly, Galanter told him to go get the goods, that he should have been a witness, that he should have recused himself, there was a conflict, therefore he was not given a fair trial," said FOX5 legal analyst Bob Massi.
"The court did not believe that," Massi continued. "The court felt, again, that there were certain waivers during the trial, but most importantly that all of the evidence presented in no way denied him a fair trial."
Although Simpson's bid for a retrial was denied, he is not out of legal options.
"Now, what could happen? That could go to the Supreme Court of the state of Nevada to appeal her decision, and if the Supreme Court ultimately affirms that decision, he could walk across the street, if you will, to federal court and go another route after the state Supreme Court has been exhausted," Massi said.
FOX5 on Tuesday night spoke with Simpson's attorneys, Ozzie Fumo and Patricia Palm. They had only just started reading Bell's decision.
"Shocked and disappointed is, I guess, my initial reaction," Fumo said.
"I disagree with the analysis of the facts and the application of the law," Palm said. "We were firmly convinced that Mr. Simpson would get some sort of relief."
Despite their disappointment, Simpson's attorneys vowed that this is not the end.
"Yeah, we are definitely going to appeal," Fumo said.
"[If] the Nevada Supreme Court does not grant relief, then we will definitely seek relief in the federal court," said Palm.
Fumo also said he was frustrated by how long Bell took to render her decision.
"We were told at the hearing that it would be two to three weeks," he said. "We are at the six-month point now."
Because Bell's decision came so late on Tuesday, Fumo and Palm said they haven't had an opportunity to inform Simpson.
"You know, the caseworker was gone, so we cannot directly call our client. Hopefully, tomorrow he'll call us. I'm assuming he knows about it through the media already," Fumo said.
Copyright 2013 KVVU (KVVU Broadcasting Corporation). All rights reserved.
OJ Simpson loses bid for Vegas robbery retrial

More>>

Wednesday, July 31 2013 5:00 PM EDT

2013-07-31 21:00:23 GMT

Here's some of the pervious stories written about O.J. Simpson's legal troubles in Las Vegas.


More >

Here's some of the pervious stories written about O.J. Simpson's legal troubles in Las Vegas.

More >