Update
Questions raised about CPS action plan
Posted:
Updated: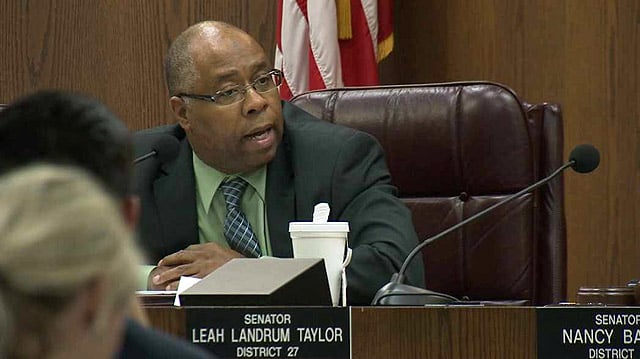 Department of Economic Security Director Clarence Carter. (Source: CBS 5 News)
PHOENIX (CBS5) -
Last week, the head of Child Protective Services revealed more than 6,000 reports of abuse had been overlooked, putting the safety of Arizona children at risk.
Department of Economic Security Director Clarence Carter promised to draft a plan to deal with the situation at hand and make sure a mistake like this never happens again.
[Click here to read CPS Action Plan (PDF)]
The CPS oversight committee was supposed to have his plan by the close of business on Monday, which was 5 p.m.
They finally got it at about 10 p.m. - along with CBS 5 News and other media outlets.
Carter released a two-phase plan to review 6,110 reports that were identified about two weeks ago as not being investigated.
Those reports of child abuse came into to the CPS hotline.
Phase I recounts the work already done to assess and categorize 2,919 cases from Jan. 1 through November of 2013.
Phase II outlines the review process for the remaining cases from 2009 through January 2013.
The remaining 3,191 reports must be reviewed by December 2nd.
We've asked CPS if they are working through the Thanksgiving holiday and the weekend, but haven't gotten a response.
If they aren't, that means CPS has two work days left to get it done.
Sen. Nancy Barto, R-Phoenix, issued the following statement about the action plan:
"While I appreciate the urgency by which the Department has established a plan of action, I still feel that it lacks in detail and falls short on addressing the accountability that the public and legislators are demanding. Given what has transpired within DES, I am not confident that the agency can properly review each and every case in the short timeframe outlined and be assured that the issue is resolved once and for all, and that these cases have been thoroughly investigated. According to this work plan, DES assessed nearly 3,000 cases from November 15-17. How thorough could those assessments be?
"The Child Protective Services Oversight Committee will want to review the work to date to deal with this caseload, but members will also want to ensure that tackling this group of cases doesn't impact current caseload and backlog strategies. The report suggests that review of cases can place certain families in an alternative investigation category. We need to know what that entails and be assured that this does not further contribute to the backlog.
"The systemic problem within CPS needs to be fixed. The public must know that this neglect of duty will never happen again and that the people responsible for this disturbing practice are held accountable. In addition, a long term reform of the agency is warranted to restore public confidence."
Rep. Debbie McCune Davis, D-Phoenix, also lashed out:
"The document that DES Director Clarence Carter released late yesterday is a timeline, but what we need to see is a plan. He did not provide adequate information about who within the agency is investigating cases and how they are managing the additional investigations once cases have been properly coded. This response leaves too many questions unanswered.
"It is still unclear how DES and CPS are realistically going to finish this job, and we don't know what CPS is going to do moving forward. We also need to hear how the Department of Public Safety will be involved in examining the process by which cases were not investigated. I encourage Gov. Brewer to utilize the services of an outside partner to help the agency identify the problems that led to this crisis and to help restore credibility to the agency.
"The situation that CPS faces is dire and those responsible need to be held accountable. Most important, the problems need to be corrected. It will take a multidisciplinary approach to ensure there is transparency throughout the agency's process of addressing and managing reports of abuse. It's time to demand more from Gov. Brewer and CPS leadership in order to ensure that Arizona is truly protecting its most vulnerable children."
CPS oversight committee Co-Chair Rep. Kate Brophy McGee said after viewing the work plan, she still has many questions for Carter.
"From an oversight viewpoint, what I'm seeking is, I want to know who in DES/CPS is in charge of the operation," she said. "Who is overseeing it?"
McGee also wants to know which employees are reviewing the mishandled cases.
She said those who wrongly labeled them as "not investigated" should not be reviewing them now.
"That only makes sense to me from a security viewpoint," McGee said.
She also has concerns about the enormous workload.
"In terms of who is working on it, where are they getting staff?" McGee asked. "Are they pulling them in from the field? That then, raises resource questions about existing caseloads."
CPS told CBS 5 News: "The department has identified 257 non-case carrying staff members with case investigation experience who could potentially be called on to help with the investigations of these cases."
Those are supplemental workers and according to the work plan, most of them are supervisors and managers.
CPS still hasn't told CBS5 News how many people are currently part of this huge undertaking.
Meanwhile, Carter's critics, including Children's Action Alliance, are calling for his resignation, saying a massive oversight happened on his watch and now CPS is in need of a major overhaul.
"If the system was overwhelmed and wasn't working, it was his responsibility to speak up and say that and tell our lawmakers and the community what was needed to make it work," said CAA President and CEO Dana Wolfe Naimark.
Members of the Arizona House Democratic Caucus delivered a letter to Gov. Jan Brewer on Tuesday, imploring her to demand that Carter resign immediately.
[Click here to read Dems letter to Gov. Brewer (PDF)]
The letter, hand delivered to the governor, included signatures from 23 Arizona House Democrats.
But others said asking Carter to step down is premature.
"It's completely political and bureaucratic low-hanging fruit to ask for the resignation of the head of DES," said Maricopa County Attorney Bill Montgomery, a member of the oversight committee. "And, it's actually the wrong message to send because as frustrating as everything is - this is the man who allowed the information to come forward."
Montgomery said Carter isn't off the hook by any means.
He said wants to get to the bottom of why this CPS oversight was allowed to happen.
An independent investigation by the Department of Public Safety began Nov. 25 and should eventually shed light on what went wrong.
House Democrats also urged the governor to call a special legislative session to appropriate the funding needed to hire more investigators and case managers to work through the 6,000 cases that have not been investigated and the 10,000-case backlog the agency previously reported.
Copyright 2013 CBS 5 (KPHO Broadcasting Corporation). All rights reserved.
Update

Questions raised about CPS action plan

More>>

Wednesday, June 11 2014 10:06 AM EDT

2014-06-11 14:06:08 GMT

READ: When kids outgrow CPS, many leave with nothing READ: Report shows Child Protective Services struggling READ: CPS team looks to enhance hotline WEBSITE: Info on becoming a foster or adoptive parent READ:

More >

READ: When kids outgrow CPS, many leave with nothing READ: Report shows Child Protective Services struggling READ: CPS team looks to enhance hotline WEBSITE: Info on becoming a foster or adoptive p

More >