Light up mouthpiece detects possible concussions
Posted:
Updated: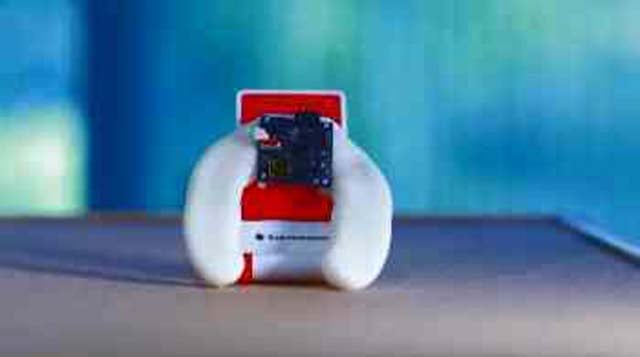 Mouthpiece invented for athletes that lights up when subjected to a high G-force impact. (Source: CBS 5 News)
TEMPE, AZ (CBS5) -
The company founded by recent ASU graduates is moving forward with developing its signature product, the FITGuard.
"Were looking for a battery that gives us enough useful life, is rechargeable and is made from a material that would not be harmful if somehow it got ingested," says Bob Merriman, Chief Operating Officer.
Merriman has announced a crowd funding campaign to raise the necessary fund to continue development of the company's light-up mouth guard.
Click HERE for more information.

There has been a heavy focus in the last several years on reducing the number of concussions on athletic playing fields.

A device being developed right now at ASU could be a big step forward in keeping safe professional players on down to Pop Warner.
A recent ASU graduate and a business school student have teamed up to invent a mouthpiece for athletes that lights up when subjected to a high G-force impact.
Their device is called the Fit-Guard.
"Forty percent of athletes don't report any symptoms after they have a concussion," says Bob Merriman, co-founder of Force Impact Technologies.
Together with ASU business student Anthony Gonzalez, the two formed the company to bring their mouthpiece to the marketplace.
Right now all their work is based off a prototype but it's not the size and shape they want yet.

That's what brought the two of them to the office of ASU design professor Dosun Shin. Shin helped to design the Nutty Buddy, an advanced cup invented and used by professional athletes.
"What we want to do is put it on flexible board that can wrap around the outside of the teeth like braces," said Merriman.
The device they're working on will be customized to the athlete who uses it. Users will be able to program in their gender, age and weight.
"We're still in a software development phase to dictate risk-injury curves," says Gonzalez.
The idea started after Gonzalez himself got a concussion during a game of rugby.

"We're not limited to a helmeted sport, this can be used in all type of applications whether it's rugby or even non-traditional sports such as horseback riding and snowboarding," said Gonzalez.

The company's goal is to have a finished product by early next year and then have something for less than $50 on store shelves hopefully by September 2014.

The two men and their invention just took second place in a entrepreneur competition that looked at fifty start-up businesses from around the world.
Copyright 2013 CBS 5 (KPHO Broadcasting Corporation). All rights reserved.