Sun Devil WBB Hosts Providence on Saturday at 4 p.m.
Posted:
Updated: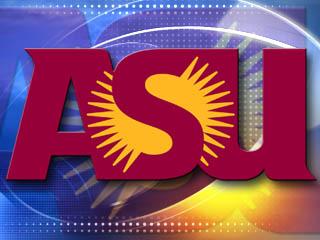 © CBS 5
PHOENIX (CBS5) -
Coming off back-to-back games on the road, the Arizona State women's basketball team (2-1), returns home on Saturday (4 p.m. MT) to host Providence (4-1) at Wells Fargo Arena.
The Sun Devils are currently in the midst of a stretch that has them playing five of six games away from home. After Saturday's game against Providence, ASU will travel to Cancun, Mexico, where it will plays contests against Illinois, North Carolina and Arkansas State during the Thanksgiving Day weekend.
NOTES FROM LAST GAME
• ASU picked up its first road victory of the season last Sunday defeating Texas Tech 85-77. The win snapped the Lady Raiders' 50-game winning streak in non-conference home games.
• The contest featured 18 ties and 18 lead changes as neither team led by more than six points until the final minute of the game. The Sun Devils would start to assume control in the final four minutes of the game thanks to the play of Thomas, who scored six straight points to ignite an 18-8 ASU run to close out the game.
• In the last four minutes of the game, ASU was 4-4 from the floor and 7-7 from the line while limiting Texas Tech to only 22 percent (2-9) shooting.
• Senior Adrianne Thomas led ASU with a career-high 18 points. Thomas was perfect on the afternoon as she was 2-2 from the floor and an incredible 14-14 from the line. Thomas was one made free throw short of tying the Pac-12 record for the best 'perfect game' from the line (three players have made 15-15).
• Also scoring in double figures for the Sun Devils were senior Deja Mann (17 points) and freshman Kelsey Moos (12 points). Mann tied her career high with four 3-point FGs.
• The Sun Devils shot 55 percent for the game, including a blistering 57 percent (8-14) from beyond the arc. ASU also made 75 percent of its free throws (21-28), including 80 percent in the second half (16-20).
• Eliza Normen led ASU's rebounding effort as she tied her career high with six boards.
SCOUTING PROVIDENCE/SERIES NOTES
• Providence (4-1) has put up some brilliant offensive numbers through its first five games as it is currently averaging 85.2 points while shooting 47 percent from the floor.
• Already with four wins this season Providence has more than half its victory total from last season when it won seven games during a rebuilding year.
• Four Friars are currently averaging double figures in scoring: junior G Tori Rule (21.4 ppg), junior F Alexis Harris (16.6 ppg), freshman F Sarah Beal (11.2 ppg) and sophomore G/F Evi Iisolla (11.0 ppg)
• ASU has won its prior two meetings with Providence, defeating the Friars 63-56 in 2010 at the Junkanoo Jam in the Bahamas, and last year in Providence, 67-58.
EARLY SEASON NOTES
• Two Sun Devils – seniors Deja Mann (14.3 ppg) and Adrianne Thomas (13.3 ppg) – are currently averaging double figures in scoring.
• Thomas (23-26) and Mann (8-8) have combined to shoot 91 percent (31-34) from the line in the season's first three games.
• Mann has six assists and only two turnovers, while Thomas leads the team with seven steals.
• Senior Joy Burke (9) and freshmen Sophie Brunner (9) and Kelsey Moos (6) have combined for 24 of ASU's 34 offensive boards.
• ASU's bench has outscored the opposition's bench 91-59 in the firs three games. Brunner (7-11 FGs) and sophomore Arnecia Hawkins (7-15 FGs) are both averaging 5.0 ppg or better off the bench in the first three games.
• Six different Sun Devils – Mann (3x), Thomas (3x), junior Promise Amukamara (1x), redshirt sophomore Katie Hempen (1x), freshmen Sophie Brunner (1x) and Kelsey Moos (1x) – have scored in double figures this season.
• Freshman C Quinn Dornstauder has come off the bench and had significant contributions in both of ASU's wins this season.
CONFERENCE SUCCESS
The Sun Devil women's basketball program has consistently been among the Pac-12/Pac-10's best for the last several years both on the court and in the classroom...
• Since the 2000-01 season ASU is one of only two schools in the Pac-12 to have won both a regular season conference title and the conference tournament title.
• ASU has finished third or higher in the Pac-12 nine times since 2001.
• Since 2005-06, ASU has led the Pac-12 in the number of conference first-team all-academic awards and the combined number of first- and second-team all-academic awards.
CHALLENGING NON-CONFERENCE SCHEDULE AWAITS SUN DEVIL WOMEN'S BASKETBALL THIS SEASON
This season the Sun Devil women's basketball team will look to return to the upper echelon of the Pac-12 Conference, which sent four teams to the NCAA Tournament last season – Cal, Colorado, Stanford and UCLA. The Pac-12 has also had two different schools represent the conference in the Final Four the last two seasons – Cal in 2013 and Stanford in 2012.
To prepare for play in the conference, which figures to be as competitive as ever in 2013-14, the Sun Devils will play a challenging, 12-game non-conference schedule that includes nine games against teams that advanced to the postseason in 2013.
"This is traditionally what we do," explained Sun Devil head coach Charli Turner Thorne. "Playing a challenging non-conference schedule helps our team grow and prepare for the tough competition it will face in the Pac-12."
Included in the non-conference portion of ASU's 2013-14 schedule will be games against 2013 NCAA Tournament participants Texas Tech (Nov. 17 in Lubbock, Texas), North Carolina (Thanksgiving weekend tournament in Cancun, Mexico), Miami (Dec. 21 in Tempe) and Syracuse (Dec. 30 in Tempe).
ASU will open its 2013-14 campaign on Nov. 9 against Hawaii (2013 WNIT participant) before going on the road to take on a San Diego team that returns four starters from last year's team that advanced to the second round of the WNIT.
ASU will face Illinois for the second time in three seasons, one of three games the Sun Devils will play in Cancun (Arkansas State, UNC). Illinois proved its program is on the rise after advancing to the quarterfinals of the 2013 WNIT.
After playing North Carolina once prior to 2005, the Sun Devils will be playing the Tar Heels for the fourth time in eight years. This will be the second time the two teams have played each other in Cancun. The Tar Heels won 29 games last season, which earned them a No. 3 seed in the NCAA Tournament.
The field for the annual ASU Classic (Dec. 7-8), includes three 2013 WNIT participants – Harvard, Long Beach State and Sacred Heart.
On Dec. 21 the Sun Devils will face Miami for only the second time in school history (ASU won the only other meeting, 78-74 in 1988). The Hurricanes are coming off their third consecutive NCAA Tournament appearance.
ASU closes out its non-conference schedule on Dec. 30 when it hosts Syracuse, which won 24 games last season on its way to a berth in the NCAA Tournament.
SUN DEVIL WOMEN'S BASKETBALL TO HONOR NO. 21 JERSEY OF HALL OF FAMER RYNELDI BECENTI ON DEC. 21
Ryneldi Becenti, a member of the Arizona State University Sports Hall of Fame who twice earned honorable mention All-America notice as a member of the Sun Devil women's basketball team, will have her No. 21 jersey honored and displayed from the rafters of Wells Fargo Arena on Sat., Dec. 21 when the Sun Devils host the University of Miami.
"As we started to evaluate the stars of our distinguished past, it quickly became apparent that no player was more celebrated or had more of an impact – both in her community and within our own Sun Devil community – than Ryneldi Becenti," said Turner Thorne. "While already in our Hall of Fame for her achievements as a student-athlete, we felt a program-specific tribute like this was fitting for a special individual whose influence went beyond the basketball court.
"The incredible work ethic and desire that led her to our program galvanized the Native American community. Her outstanding contributions as a Sun Devil enhanced her legendary status and remain an inspiration for many. I am so proud to be announcing that we will be hanging Ryneldi Becenti's No. 21 jersey from the rafters of Wells Fargo Arena on Dec. 21. We hope all our fans and basketball enthusiasts alike will mark the date in their calendars to come out and help us pay tribute to this Sun Devil icon."
Becenti was a two-time honorable mention All-America honoree while also becoming one of only three Sun Devils (at the time) to earn All-Pac-10 first-team honors twice in a career.
Following two successful seasons at Scottsdale Community College, Becenti joined ASU where her outstanding all-around play was pivotal in helping the Sun Devils earn a NCAA Tournament berth in 1992, the program's first tournament invite since 1983.
By the conclusion of her two-year Sun Devil career, Becenti would accumulate 396 career assists, which at the time represented the second-highest career total in program history. Her career average of 7.1 assists per game remains a Pac-12 record to this day, while her 17-assist outing vs. Marquette in 1992 still sits atop the team's list for most assists in a single game. With 15 points, 10 rebounds and 12 assists in a Jan. 25, 1992, game against Oregon State, Becenti became the first player in school history to record a triple-double and was the lone player in the NCAA – men or women – to record the feat that season.
Becenti's enormous popularity in the community and the Navajo Nation received national acclaim in March 1993, when she was featured in a Sports Illustrated article written by award-winning journalist Gary Smith.
As a member the 1993 USA team at the World University Games, Becenti became the first Native American female to earn a medal at the event. She would also go on to earn the distinction of becoming the first Native American to play in the WNBA as a member of the hometown Phoenix Mercury.
In 1996, she became the first woman inducted into the American Indian Athletic Hall of Fame adding to her list of enshrinements, which includes the Scottsdale Community College Hall of Fame, Arizona State University Hall of Fame and the Arizona High School Sports Hall of Fame.
A native of Fort Defiance, Ariz., Becenti earned high school All-America honors playing for Window Rock High School. Her stellar play continued at Scottsdale Community College where she earned junior college All-American recognition.
Copyright 2013 CBS 5 (Meredith Corporation). All rights reserved.