CBS 5 Advocate
Some taxpayers getting audit letters over 2009 unemployment income
Posted:
Updated: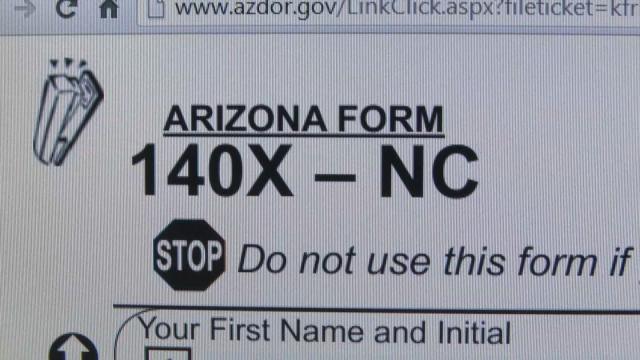 TEMPE, AZ (CBS5) -
A number of Arizona taxpayers say they are getting a strange letter in the mail from the Department of Revenue that says they owe tax, interest and penalties from income back in 2009.
Arizonans who received unemployment compensation back in 2009, were required to pay state tax on all of that income and many didn't due to a confusing issue at the time. If you're one of those people, and you didn't fix the problem, the state is now sending you a bill.
The IRS gave the unemployed a break back in 2009. It allowed them to exclude $2,400 in unemployment compensation from their federal taxable income. Tempe Certified Public Account and Enrolled Agent Aaron Blau says the Arizona legislature convened on the matter in late April 2010.
"And they choose to conform or not conform to the Internal Revenue code that exists as of January, first of the year," Blau said.
If the legislature had conformed, the 2009 compensation would have also been excluded from Arizona taxable income too, but the legislature decided not to conform.
"Most people had already filed their taxes," Blau said.
And, of course, those who had filed had excluded the unemployment compensation on their state returns. Those people had to file a separate form 140X-NC and add the income back. Those that didn't are now getting audit letters from the Arizona Department of Revenue saying they owe taxes, interest, and penalties on that $2,400 from 2009. Blau says if you got a letter, take action.
"If you don't respond to the letter, if you don't sign off that you agree, the tax is going to be assessed, if you have a refund in the future, they're just going to take the refund from you," Blau said.
Blau says the long delay in contacting taxpayers is normal. He also says don't submit the 140X-NC form, just follow the instructions on the letter.
"Sign off on the proposed assessment, send them a check for the money that they're requesting, and everything will be completed," Blau said.
Back in 2010, the Arizona Department of Revenue (ADOR) did alert the media and also provided special instructions on its forms and website trying to make taxpayers aware of this confusing situation. ADOR gave taxpayers until October 2011 to pay the taxes owed without interest or penalty. But not everybody got the news, about one to two percent of filers, and they now have to pay up.
Copyright 2013 CBS 5 (KPHO Broadcasting Corporation). All rights reserved.