Is driving in heavy traffic bad for your heart?
Posted:
Updated: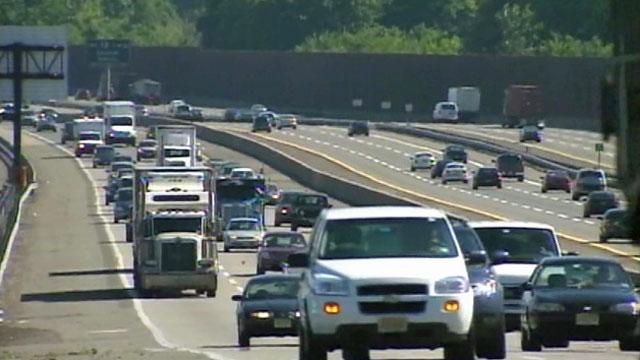 Traffic flows along an Upstate interstate. (File/FOX Carolina)
GREENVILLE, SC (FOX Carolina) -
Driving for some people can be some of the most stressful times of the day.
Stop-and-go traffic, people cutting others off, distracted drivers, wrecks and road rage can all combine to raise blood pressure and increase heart rates.
And if someone has underlying coronary artery disease, it can be even more dangerous. FOX Carolina Pit Crew Traffic teamed up with The Greenville Health System for find out how dangerous it can be.

With the help of Cardiology Consultants of The Carolinas, FOX Carolina Meteorologist Nicole Papay, Digital Content Manager Casey Vaughn and Pit Crew Traffic Reporter Chris Scott participated in the experiment.
All three were hooked up to a heart monitor to register their reactions while driving on Interstates 85 and 385, in downtown Greenville and along Woodruff Road.
And the results varied. Nicole's heartbeat peaked at 160 beats per minute, which is pretty high. Casey's results were middle of the road, not too high, not too low, but did show some peaks.
And Chris' results were quite different with no peaks at all - the calmest driver of the three.
Dr. Timothy Malinowsky of Cardiology Consultants of the Carolinas said spikes in heart rate or an erratic pulse are not definite signs that there is trouble under the hood.
"There are some people that can't drive without tremendous anxiety," said Malinowsky. "We frequently see people that have had an accident and aren't sure why. Some of them pass out, get dizzy and have an accident. Some of them have significant other symptoms: [they] can't breathe, chest pain or can't get off the road in time before they have an accident."
Malinowsky said there are some warning signs of Coronary Artery Disease to look out for that might not be obvious. Recognizing the first signs of trouble can help keep your heart running like a well-oiled machine.
"You never know if what you're experiencing is anxiety or heart related, you just never know at first," Malinowsky said. "If it's something serious, it'll manifest as a heart attack or sudden death. When it comes to heart disease, early detection is the absolute key. There's so much we can do these days to help correct underlying heart problems."
So to live longer and feel better, drive safely and make sure not to avoid those engine warning lights.
Copyright 2013 FOX Carolina (Meredith Corporation). All rights reserved.