Thanksgiving dinner gobbles up 2 percent more than in 2012
Posted:
Updated: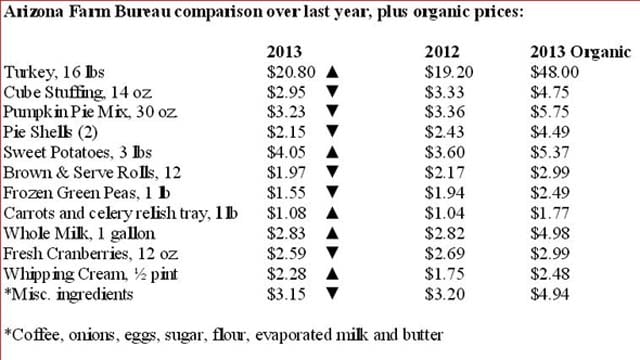 Price of an Arizona Thanksgiving meal. (Source: Arizona Farm Bureau)
PHOENIX (CBS5) -
The average price Arizonans will pay for a turkey dinner and all the trimmings this year is $48.63 for a family of 10, the Arizona Farm Bureau said.
That's up $1.10, or about 2 percent, over the 2012 Arizona Thanksgiving meal ($47.53) and 41 cents less than this year's American Farm Bureau Thanksgiving survey of $49.04.
The cost of a 16-pound turkey purchased in Arizona this year was $20.80, or $1.30 per pound, which reflects an increase of 10 cents per pound, or a total of $1.60 over last year. That does not factor in store coupons or specials.
This year's meal is actually $4.18 cheaper than what shoppers paid five years ago when the total was $52.81.
For a third consecutive year, Arizona Farm Bureau conducted an Organic Price Survey on the same basic food items found on the Thanksgiving dinner table.
The Organic Thanksgiving dinner with all the trimmings will cost $91, nearly twice the amount of the non-organic purchase of the same items.
The biggest ticket item was a 16-pound organic turkey at $48 or $3 per pound. Milk, pumpkin mix and cubed bread stuffing were also significantly higher in price than the non-organic items.
The Arizona Farm Bureau survey shopping list includes turkey, stuffing, sweet potatoes, rolls with butter, peas, cranberries, a relish tray including carrots and celery, pumpkin pie with whipped cream plus coffee and milk, all in quantities sufficient to serve a family of 10.
To make a proper comparison, these items are the same food items used in the national Farm Bureau survey for the past two decades.
The average price of the remainder of the menu includes:
Three pounds of sweet potatoes, $4.05
A 16-ounce package of frozen green peas, $1.55
One gallon of whole milk, $2.83
A half-pint carton of whipping cream, $2.28
A package of two nine-inch pie shells, $2.15
A 12-ounce package of fresh cranberries, $2.59
A 14-ounce package of cubed stuffing, $2.95
A 30-ounce can of pumpkin pie mix, $3.23
Miscellaneous items like eggs, sugar, flour and coffee, $3.15
One-half pound each of carrots and celery for a relish tray, $1.08
A 12-ounce package of brown-and-serve rolls, $1.97
Copyright 2013 CBS 5 (KPHO Broadcasting Corporation). All rights reserved.