DEA: Alarming rise in prescription pills, heroin, meth use
Posted:
Updated: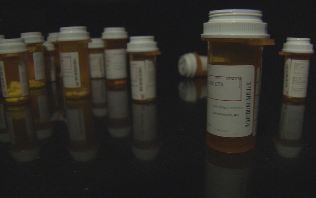 PHOENIX (CBS5) -
The Drug Enforcement Administration said after years of progress in the war on drugs, the nation has taken a huge step backward.
Heroin use is skyrocketing, especially in the Southwest, along with prescription drugs and meth.
"It's definitely made a comeback in the most terrible way," said Austin, a recovering prescription drug and heroin addict who asked we not reveal her full name.
Prescription drugs are considered the nation's biggest problem right now, but people are also turning to heroin because it's cheap and easily available - and they're using it at a younger age, according to the DEA.
"I didn't think when I started smoking pot that I'd be shooting heroin and cocaine two years later," said Justin, a recovering addict who also asked that we withhold his last name.
"Percocet and Oxycontin, eventually it just moved along and I figured out that heroin was cheaper," Justin said.
In its National Drug Threat Assessment Summary, the DEA said seizures at the U.S.-Mexico border of the drug have increased more than 230 percent since 2008.
"I had 12 felony charges by the age of 20," Justin said.

"I actually gave myself a heart infection," Austin said.

The DEA also said while crack cocaine is less available nowadays, meth, marijuana and synthetic drugs are as prevalent as ever.
"A lot of people die from respiratory arrest, they just stop breathing," said Stephanie Siete with Community Bridges Inc. She said a growing concern is synthetic drugs such as bath salts and spice.
"There's so many newer, unknown chemicals appearing all the time," Siete said. "The scary thing is we don't know what they are, hence the outcomes."

Justin and Austin said they had to learn the hard way.
"I don't have to get high. There's something else I could be doing, and not having to go back to that is pretty awesome," Austin said.
In April, Arizona changed its definition of dangerous drugs to include bath salts and spice, but Siete said the backyard chemists are usually one step ahead of the law.

Copyright 2013 CBS 5 (KPHO Broadcasting Corporation). All rights reserved.