PD: Mesa man planned to kill estranged wife
Posted:
Updated: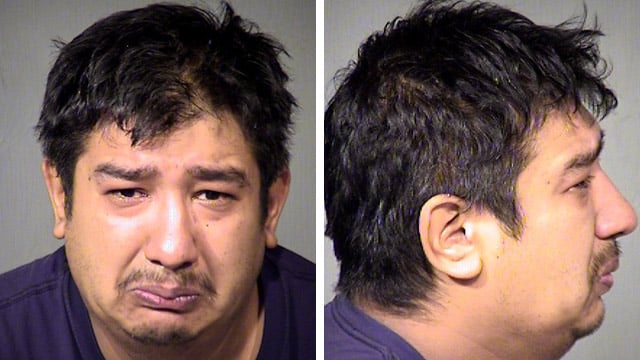 Carlos Hillan (Source: Mesa Police Department)
MESA, AZ (CBS5) -
A Mesa man's alleged plan to kill his estranged wife, her boyfriend and then himself was "eerily similar" to Tuesday's murder-suicide rampage in Phoenix that left four people dead, including the gunman, police said.
The plan was foiled after the man's roommate called police.
Carlos Hillan, 34, was taken into custody Wednesday in an alleyway near his estranged wife's house where he had been waiting for her to come home from work, officers said.
Police captured him as he jumped a back fence. They found he was carrying a gas can and lighter, officers said.
According to a probable cause statement, Hillan and his wife, Sarah, separated about a month ago. The court document stated that after he found out she was seeing someone new, Hillan told his roommate he was going to kill them both and then himself.
He told his roommate that he was going to tie them up and kill the boyfriend with a machete and set his estranged wife on fire, court paperwork stated. He then planned to burn the house down, police said.
Hillan asked his roommate and another friend to care for his 3-year-old daughter, police said.
Hillan's estranged wife had changed the locks on the doors of their house and he had been living in apartment.
Police said Hillan had attempted to kill himself a month ago.
During a police interview, Hillan admitted he purchased handcuffs, a machete, rope, zip ties and a gas can in his plot, the court document stated.
He told police he first started having thoughts of killing them a few days earlier when he drove by the home and saw the boyfriend's vehicle parked out in front, according to court paperwork. He said at the time he was homeless and living in his car.
A search warrant was executed on Hillan's vehicle and police said they discovered the items he had bought to be used in the crime.
Hillan was booked into jail on two counts of attempted first-degree murder, attempted arson and burglary.
On Tuesday, a man identified as 53-year-old Michael Sanders shot and killed his estranged 51-year-old wife, Carol, and then set her body on fire in the backyard of their home near 51st Street and Thunderbird Road.
Police said Sanders also killed his 14-year-old daughter and 49-year-old brother-in-law before killing himself.
Copyright 2013 CBS 5 (KPHO Broadcasting Corporation). All rights reserved.