Neighbors mourn loss of slain Phoenix family
Posted:
Updated: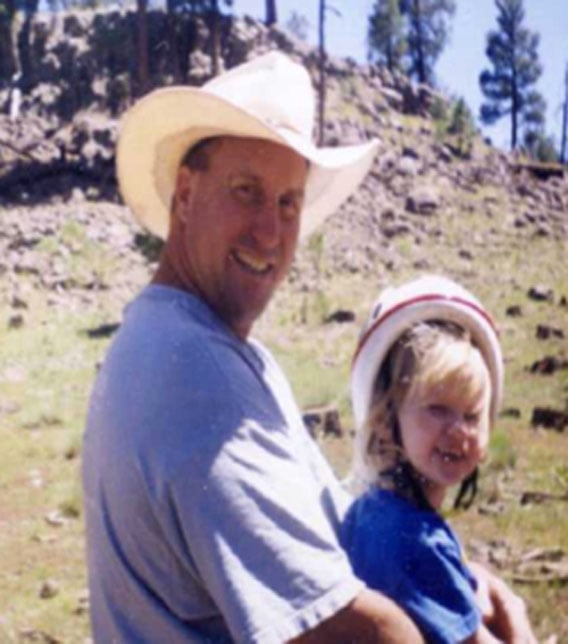 Mike Sanders and his daughter, Audra, in an old photograph. (Source: Sanders' neighbor)
PHOENIX (CBS5) -
In front of a home cloaked in darkness, three candles illuminated the night. One of those flames burned in memory of 14-year-old Audra Sanders.
"It doesn't hit you until you see it," said Sander's childhood friend, Alexandra Anderson.
The bodies of Carol Sanders, 51, Audra and Carol Sanders' 49-year-old brother, Thomas Fitzpatrick, were found Tuesday afternoon, said Phoenix police Sgt. Trent Crump. Mike Sanders' body was later found a short distance away along a bridle path behind the home.
Anderson grew up just a few houses down from Sanders and knew the family well.
"We used to go to her house and she used to come over," said Anderson.
Anderson remembered Audra as lively and cheerful.
"She just liked playing with her horses and everything. She was an outdoorsy kind of girl," said Anderson.
However, Anderson said in the last year or so that had changed.
"She wanted to end her life," said Anderson.
Anderson told CBS 5 she believed that may have had something to do with her father.
"I knew their mom and dad. I knew their dad was kind of different. I don't know. I guess it was just a feeling. I just didn't feel like he was all the way normal," said Anderson.
Anderson said she wished events would have played out differently but hopes Audra can finally be at peace.
"You don't have to feel pain anymore," said Anderson.
Audra was in eighth grade at Desert Shadows Middle School.
Copyright 2013 CBS 5 (KPHO Broadcasting Corporation). All rights reserved.