Smuggling bust a 'family affair'
Posted:
Updated: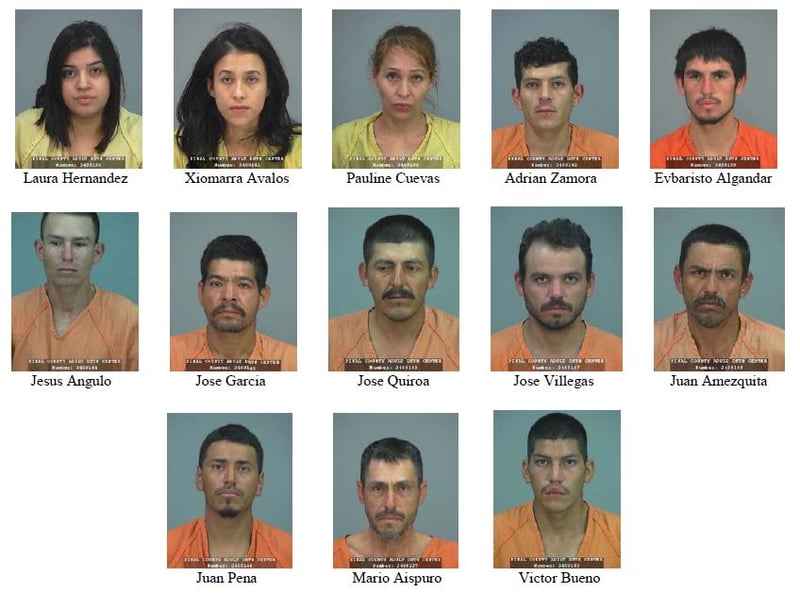 PINAL COUNTY, AZ (CBS5) -
Thirteen people suspected for smuggling were taken into custody last Friday.
A Pinal County Sheriff's Deputy was on patrol on Interstate-8. He saw two vehicles, a Nissan passenger car and a Kia sports utility vehicle, both exit at Freeman Road. The deputies doubled back on the freeway to later find the same two vehicles also now on the eastbound lanes. Only this time, instead of just a driver in one vehicle and two people in the other, they were both packed with people.
The deputy noticed the drivers did not stop at a stop sign before entering the interstate, and with the help of another deputy, both vehicles were pulled over.
The driver of the Kia has been identified as 37-year-old Paulina Cuevas-Perez of Mexico. Inside were six others, identified as 20-year-old Xiomara Avalos of Phoenix, 25-year-old Adrian Rodriguez-Zamora of Mexico, 19-year-old Victor Aispuro-Bueno of Mexico, 25-year-old Jesus Rios-Angulo of Mexico, 28-year-old Juan Paez-Pena of Mexico and 38-year-old Jose Domingo Aispuro-Quiroa of Mexico.
The driver of the Nissan has been identified as 22-year-old Laura Hernandez of Phoenix. Inside were five others, identified as 50-year-old Mario Aispuro-Airpuro of Mexico, 33-year-old Jose Feliz-Villegas of Mexico, 42-year-old Juan Feliz-Amezquita of Mexico, 38-year-old Jose Garcia of Mexico and 20-year-old Evbaristo Algandar-Algandar of Mexico.
Detectives with the Sheriff's Office's Anti-Smuggling Unit learned Cuevas-Perez, who had already been deported twice back to Mexico, made arrangements to pick up the suspected illegal immigrants and bring them to a hotel near 83rd Avenue and McDowell Road in Phoenix. Because of the number of people she was picking up, she called her cousin, Hernandez, to assist.
Avalos is the daughter of Cuevas-Perez, who decided to go with her mother to help. It was pre-determined that Hernandez would be paid $200 per person she picked up.
Sheriff Paul Babeu commented on the incident:
"The other 10 individuals were interviewed by deputies and admissions were made the group had smuggled marijuana into the United States from Mexico. Mario was the guide for the group and he used a handheld radio to communicate with individuals on the mountain tops to make sure their route was clear. Each smuggler was paid a determined amount of cash depending on the weight of the marijuana they carried during their five-day walk through the desert. Once they reached Interstate 8 a red pickup truck stopped, the marijuana was loaded into it and then they were picked up by the two vehicles."
Deputies also seized $3,000 from the suspects along with their vehicles, which they will request they be forfeited. The U.S. Border Patrol and officers from the Ak-Chin Police Department assisted us with this investigation.
Copyright 2013 CBS 5 (KPHO Broadcasting Corporation). All rights reserved.