UPDATE
1 student released, 1 still hospitalized after science blast
Posted:
Updated: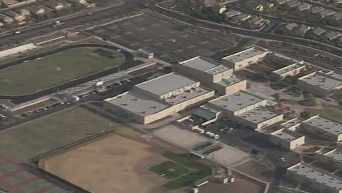 La Joya High School in Avondale. (Source: CBS 5 News)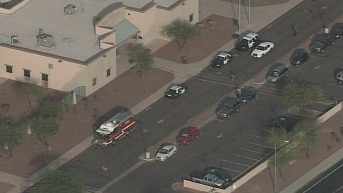 (Source: CBS 5 News)
AVONDALE, AZ (CBS5) -
One student has been released and another is still hospitalized after they were burned during a chemical experiment in a high school science lab Tuesday.
The flash explosion injured four students and their teacher. Only two of the students required hospitalization.
The Tolleson Union High School District said it happened around 3 p.m. during an after school science club experiment at La Joya Community High School in Avondale - with about 10 people inside.
"It was a short fire," said Ron Deadman with the Avondale Fire Department. "It went out very quickly. But, at the same time, it was intensified enough to injure some folks."
He said a 17-year-old girl and a 15-year-old girl suffered burns to their faces.
"Any burn injury to the facial area - we have to assume that it's a burn to the airway," Deadman explained. "And, because of that or any burn that starts - it takes up to an hour to fully develop and swell or blister. "
He said swelling could then block the airway and inhibit breathing - so, the teens were taken to the Arizona Burn Center for evaluation and treatment.
A 16-year-old girl was taken to Banner Estrella Hospital, by her parents, with a minor burn - while an 18-year-old boy and the 29-year-old science teacher were treated on scene for their injuries.
"The chemicals that were used in the science club after school were commonly found in the classroom," said district Superintendent Dr. Lexi Cunningham. "They were used in an experiment throughout the day."
Cunningham said it was a chemical experiment that went awry as students mixed variations of chloride - Strontium, Copper and Sodium - to produce different color flames.
"They followed the precautions that were established in the classroom and we will continue to evaluate our safety plans as we go along," she said.
Deadman said the cause of the flash explosion remains under investigation.
Copyright 2013 CBS 5 (KPHO Broadcasting Corporation). All rights reserved.