Malloy announces additional funds for school security
Posted:
Updated:
By Joseph Wenzel IV, News Editor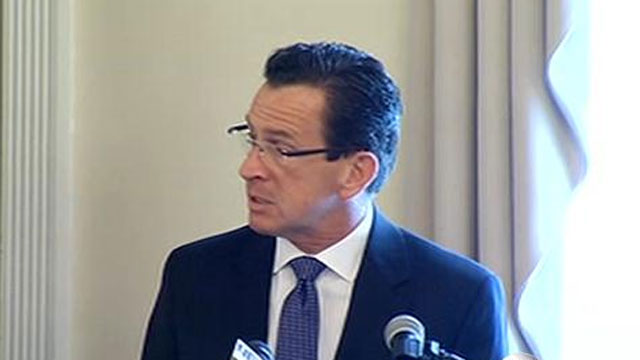 File Photo
FARMINGTON, CT (WFSB) -
Gov. Dannel Malloy announced Tuesday that an additional 75 school districts covering 435 schools will receive funds as part of the School Security Grant Program, part of the Gun Violence Prevention and Children's Safety Act.
Speaking at the Farmington Club for the Connecticut School Construction Coalition's "School Facility Security Products and Services Day," Malloy said an additional $16 million in state funding will be used to reimburse cities and towns for a portion of the costs associated with improving school security following the Sandy Hook shooting.
"This allows us to continue to get resources out to the cities and towns that have begun work to modernize their security infrastructure and ramp up safety procedures at school buildings in the wake of the horrific events on Dec. 14," Malloy said Tuesday. "We will never be able to prevent every random act of violence, but we can take the steps necessary to make sure that our children and our teachers are as safe as possible. This funding allows an additional 435 schools to implement modern security measures that will make schools safer."
School security has been discussed at length in the wake of a mass shooting at Sandy Hook Elementary School last December that took the lives of 20 children and six adults.
The $16 million in state funding will be combined with $5 million approved by Malloy in September.
Malloy said on Tuesday that he would likely ask for more money during the next legislative session.
Milford school officials missed out on the first round of funding in September, but they said they were happy to find themselves on the new list. They were granted more than $1.3 million.

The following changes have been made to the Joseph Foran High School in Milford since that school shooting:

An electronic key card is needed to enter the school
Classrooms can be locked from the inside to deter an intruder
Each room has a phone with an outside line to access 911.
In the main office, there is a quick link button, which is similar to a silent alarm at a bank, that can notify police instantly if something goes wrong.
"With the attack that occurred in Newtown, we sat down again and went through our manual and went over everything again, and came up with these things to improve upon," said Bill Richards, who is the deputy director emergency management for the city of Milford.
The following schools received funding through the school secruity grant:
ANSONIA

ASHFORD
AVON
BARKHAMSTED
BETHEL
BLOOMFIELD
BOLTON
BRIDGEPORT
BROOKFIELD
CANAAN
CHAPLIN
COLUMBIA
CORNWALL
COVENTRY
DANBURY
DERBY
EAST HADDAM
EAST HAMPTON
EAST HAVEN
EAST LYME
EAST WINDSOR
EASTON
ELLINGTON
ENFIELD
FAIRFIELD
FARMINGTON
GLASTONBURY
GRANBY
GREENWICH
GROTON
HAMDEN
HARTFORD
KILLINGLY
LISBON
LITCHFIELD
MERIDEN
MILFORD
MONTVILLE
NEW BRITAIN
NEW FAIRFIELD
NEW HARTFORD
NEW HAVEN
NEW MILFORD
NEWINGTON
NORFOLK
NORTH HAVEN
NORWALK
OLD SAYBROOK
OXFORD
PLAINVILLE
PORTLAND
PRESTON
REDDING
REGION 01
REGION 04
REGION 05
REGION 07
REGION 08
REGION 09
REGION 10
REGION 11
REGION 12
REGION 16
REGION 17
REGION 19
RIDGEFIELD
SALISBURY
SCOTLAND
SEYMOUR
SHERMAN
SIMSBURY
SOUTH WINDSOR
SOUTHINGTON
SPRAGUE
STAMFORD
STONINGTON
STRATFORD
SUFFIELD
THOMASTON
THOMPSON
TORRINGTON
TRUMBULL
VERNON
VOLUNTOWN
WALLINGFORD
WATERBURY
WEST HAVEN
WESTBROOK
WETHERSFIELD
WILLINGTON
WILTON
WINCHESTER
WINDHAM
WINDSOR LOCKS
WOLCOTT
WOODBRIDGE
WOODSTOCK
To find out how much the schools received, click here.
Copyright 2013 WFSB (Meredith Corporation). All rights reserved.