UPDATE
AZ prep football player dies after Saturday head injury
Posted:
Updated: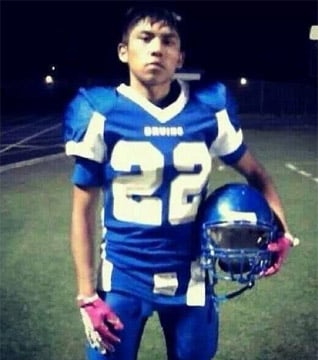 Charles Youvella died from a brain injury suffered during a high school football playoff game on Saturday. (Source: Facebook)
PHOENIX (CBS5) -
A northern Arizona community was in shock and grieving Tuesday morning after a high school football player from Navajo County died from a blow to the head during a game over the weekend.
Charles Youvella, a senior at Hopi High School in Keams Canyon, was hurt when he was tackled during a state playoff game against Arizona Lutheran Academy on Saturday night in Phoenix.
The 5'5", 125-pound wingback and defensive back died of a traumatic brain injury Monday night, according to a news release from the Arizona Interscholastic Association.
The AIA planned to open a bank account Tuesday for people to donate to help the family with expenses.
"We are deeply saddened by the tragic loss of Charles Youvella, a senior at Hopi High. We send our condolences to the Youvella family and friends and encourage everyone to keep them in your thoughts and prayers," the AIA said in a statement released Monday night.
A memorial service has been planned for 7 p.m. Thursday at Hopi High School. The service is open to the public. On Friday, the funeral will take place at the LDS church in Polacca, AZ, with the burial ceremony following at 1 p.m.
A NFL-approved youth flag football organization, Prime Time Athletics, will hold a moment of silence before the start of league games on Nov. 16 to remember Youvella.
It also announced Tuesday that it will be hosting a fundraiser at all of its Arizona locations this weekend.
Proceeds from the fundraiser will be distributed through the non-profit Desert Youth Football Association, the charitable arm of Prime Time Athletics, to the fund set up by the Arizona Interscholastic Association for the benefit of Youvella's family.
For more information on the fundraiser and how to contribute: mailto:pr@ptathletics.com
Copyright 2013 CBS 5 (KPHO Broadcasting Corporation). All rights reserved.