New Britain mayor sworn in Tuesday
Posted:
Updated:
By Joseph Wenzel IV, News Editor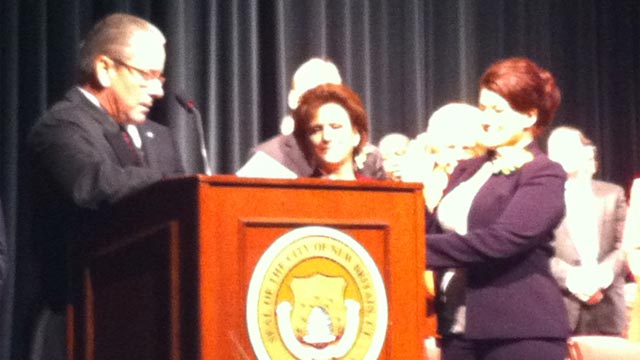 NEW BRITAIN, CT (WFSB) -
The youngest mayor ever in New Britain was sworn in during a ceremony Tuesday morning.

Erin Stewart defeated Tim O'Brien, and she was sworn in by her father during the ceremony at New Britain High School.

"One week ago voters demanded change," Erin Stewart said. "(They) voted for a new generation of leadership and I am humbled to say that a new generation has arrived."
Stewart's father, Timothy, served as mayor in New Britain for four terms.
"She never listened to me then, not sure why now," said Timothy Stewart.

Her victory is considered to be an upset because O'Brien had been the city's mayor for the past two years, and was a former state legislator.
"I look forward to years of success in our community," O'Brien said.

One of the political leaders in attendance on Tuesday was the mayor of Torrington, Ryan Bingham, who was elected when he was 22 years old.
"When someone see you and say I have undershirts older than you," Bingham said. "I say they need new under shirts."
Erin Stewart said she is ready to get to work and her first city council meeting will be Wednesday night.

"First and foremost, I am going to sit down with my finance director and figure out where we are and where we need to be moving forward," Erin Stewart said.
There's already a controversy in New Britain and it involves an error in voting procedures. Republicans are asking for a new election for city councilors in Ward 5. Erin Stewart said regardless of the outcome, she's willing to work with everyone.
Copyright 2013 WFSB (Meredith Corporation). All rights reserved.