Braves to relocate to Cobb County in 2017
Posted:
Updated: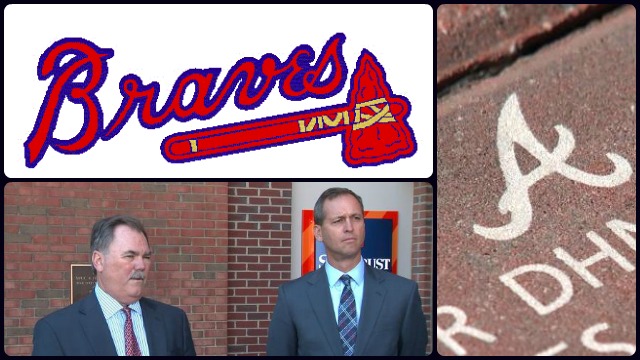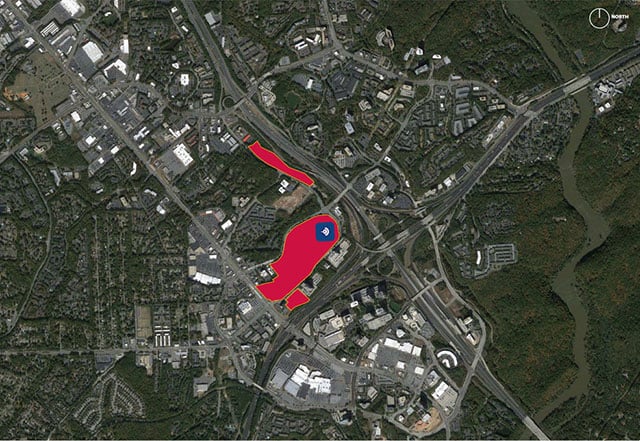 Map of new Braves stadium at I-75 and I-285. Blue = new ballpark, red = mixed-use development and parking. (Source: Atlanta Braves)
ATLANTA (CBS46) -
The Atlanta Braves are relocating to Cobb County at the intersection of I-75 and I-285.
"We are excited to announce plans to build a world-class stadium, which will open in 2017 at the NW intersection of I-75/I-285. #Braves," read one tweet from the official Braves Twitter account.
"We have secured a large tract of property at this location & will work to build a world-class ballpark for our fans. #Braves," followed another.
The Braves' 20-year agreement with Turner Field expires at the end of the 2016 season.
"This decision to move was not easy, and we have mixed emotions about leaving a ballpark that holds so many great memories. However, knowing that our lease will expire in 2016, we have devoted our time trying to secure the best option for our fans, our team and our organization. We believe this new site will be the best location for our fans and our organization for the next 30 years," said the Braves on their website.
[Click here for a video message from Braves President John Schuerholz.]

Since the facility opened in 1997, the Braves have invested nearly $125 million in Turner Field.
Turner Field currently needs $150 million in infrastructure work (including seat replacement, upgrades to the lighting, etc.), none of which would significantly enhance the fan experience. If the Braves were to pay for additional projects focused on improving the fan experience, the additional costs could exceed $200 million.
During construction of the stadium, more than 5,227 jobs will be supported, with a total payroll of more than $235 million.
Statement from Mayor Kasim Reed on the Atlanta Braves:
"The Atlanta Braves are one of the best baseball teams in America, and I wish them well. We have been working very hard with the Braves for a long time, and at the end of the day, there was simply no way the team was going to stay in downtown Atlanta without city taxpayers spending hundreds of millions of dollars to make that happen. It is my understanding that our neighbor, Cobb County, made a strong offer of $450M in public support to the Braves and we are simply unwilling to match that with taxpayer dollars. Given the needs facing our city and the impact of Turner Field stadium on surrounding neighborhoods that was something I, and many others were unwilling to do. We have been planning for the possibility of this announcement and have already spoken to multiple organizations who are interested in redeveloping the entire Turner Field corridor. Over the next three years, we will be working with our prospective partners to bring residential and business development that is worthy of our city and strengthens our downtown. Those conversations will continue and I am excited about how we use the land that is now Turner Field, to be a tremendous asset for our residents, our city, and our region for years to come."
Cobb Commission Chair Tim Lee released this statement:
"The Atlanta Braves are a great organization and will be a welcome addition to Cobb County. Our focus is on finalizing an agreement that will bring jobs and economic growth to the area while enhancing the experience of sports fans from across metro Atlanta. Atlanta has evolved over the years into a broader community that offers so much for so many. Cobb County is proud to be a part of the region's continued success."
Baseball Commissioner Allan H. (Bud) Selig issued the following statement regarding the announcement:
"The Braves have kept us apprised of their stadium situation throughout this process. Major League Baseball fully supports their decision to move to a new ballpark in Atlanta for the 2017 season, and we look forward to their continued excellence representing their community, both on and off the field."
More details can be found at homeofthebraves.com and will be posted as they become available.
Copyright 2013 WGCL-TV (Meredith Corporation). All rights reserved.