Tree trimming causing traffic issues on I-91
Posted:
Updated:
By Joseph Wenzel IV, News Editor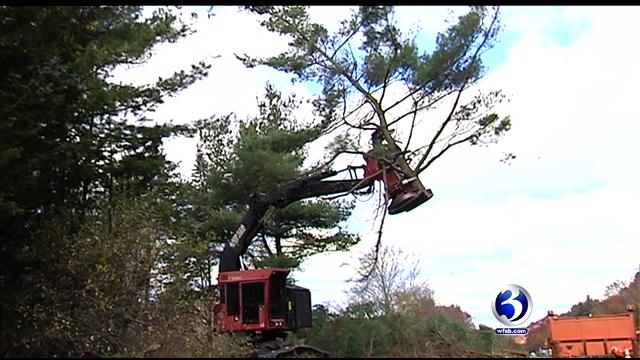 CROMWELL, CT (WFSB) -
Traffic was tied up in parts of the state Friday, but it was not due to construction. Instead, crews trimming and cutting thousands of trees on roads and highways all over Connecticut caused delays during rush hour.
However, state officials said all the trimming was being done for safety. Trees were blocking visibility for drivers, which is one of the reasons they were being removed.
"I think it's a good idea, helps with the visibility so you can see what's going on," said Yakov Levenstein of Brooklyn, NY.

A major concern was what can happen to these trees during a snow or ice storm. Snow and ice from storms could become heavy on the trees and cause them to bend. Then, those trees can fall, which is why state officials want to get rid of them.
When the trees fall, those fallen limbs and branches shut everything down. During three massive storms, the Merritt Parkway was closed a couple of times for 48 hours.
Some of the trees along the highways are dying and decayed. Some of the trees are in perfect health. However, all them need to be trimmed in case of a bad storm.
Along Interstate 91 between Cromwell and Meriden, the left lanes in both directions were closed during rush hour while crews trimmed trees. The tree maintenance will continue at all times of the day, not just rush hour.

"They were cutting trees, pretty much blocking the whole highway," said Arnoldo Lopez of Bristol.

Copyright 2013 WFSB (Meredith Corporation). All rights reserved.