Expert: 2-year-old run over by truck could have been prevented
Posted:
Updated: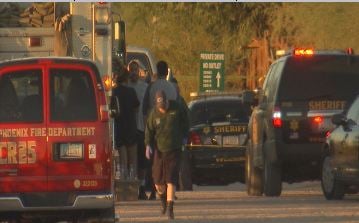 CAVE CREEK, AZ (CBS5) -
Investigators are calling it a horrible accident that ended the life of a Valley toddler.
But an expert on truck driver safety told CBS5 that the accident could have been prevented.
He said if the driver of a Waste Management truck had followed some basic, common sense guidelines, before backing up and running over a two-year old boy near Cave Creek Road and the Carefree Highway Wednesday, the accident would not have happened.
According to section 2.2.4 of the Arizona Commercial Driver's License Manuel, backing safety requires:
* The driver should check the outside mirrors on both sides frequently and get out of the vehicle and check your path if you are unsure of what's behind you.
*Use a helper when you can. There are blind spots you can't see.
*The helper should stand near the back of your vehicle where you can see the helper.
Authorities told CBS5 that the Waste Management driver did have a trainee with him, but there are no reports that the trainee was used as a helper while the truck was backing up.
It is also unclear whether the driver got out of his vehicle to look behind him.
Waste Management released this statement:
"While we can't speak to the specifics of this ongoing investigation, Waste Management of Arizona's safety policies are in compliance with the Federal Motor Carrier Safety Regulations.... and Arizona Commercial Vehicle Safety Regulations."
Copyright 2013 CBS 5 (KPHO Broadcasting Corporation). All rights reserved.