Social media pictures being tracked by potential predators
Posted:
Updated: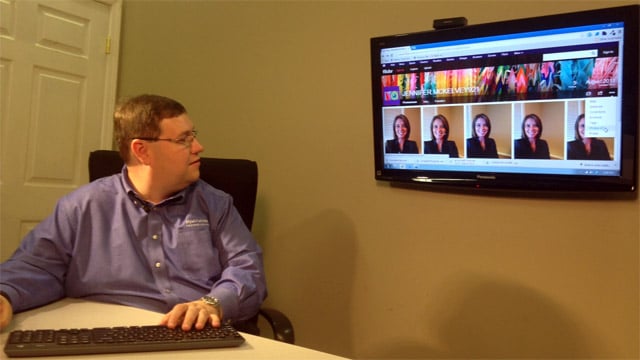 Werne is able to track McKelvey through her social media pictures. (File/FOX Carolina)
GREENVILLE, SC (FOX Carolina) -
Many picture takers snap selfies or capture cute, cuddly moments of their children and post them to social media sites.
Jennifer McKelvey said she does it and admits she's usually on a social media website just about everyday.
"Right now, I'm at my home and I've decided to take a picture and post in on Flickr," she said.
She also checks in on Facebook and is member of Flickr, so she agreed to participate in a FOX Carolina investigation on how safe her pictures and posts really are.
"Here are all the pictures that I've taken," she said as she pointed to her computer screen.
While McKelvey posed and posted pictures, several miles away at the Liquid Video Technology office in Easley, Deverne Werne, an information technology consultant, tracked her.
"You don't have to really be an experienced hacker or IT person in order to do that," Werne said. "We're going to go and find her Flickr account and find that picture and read the data from it and say this is where she's at."
He logged onto Flickr and searched for McKelvey's name. Once he found it, he was able to pull up her account and could see the pictures she just posted.
"So, I click "actually October" and it's going to show me a little picture of what she took," he said. "I was able to download this original picture of her and now that I have it, it contained all the meta data about where she was located."
Werne was able to get other information from the picture too.
"So, it was taken on an Apple iPhone," he said.
Without sharing all the information he found, he was able to get information that a predator or criminal could use to commit a crime.
"So, all I have to do is put those in Google Maps and I'll have her location," he said.
Werne was able to get an idea where McKelvey lives from the picture information.
"I was surprised that they were able to pinpoint me that closely," McKelvey said. "It makes you feel vulnerable."
McKelvey said she will make some changes when it comes to posting pictures.
"I'll definitely have a look at all my settings on all my devices and make sure my accounts are private," she said.
Copyright 2013 FOX Carolina (Meredith Corporation). All rights reserved.