Better Arizona
Facility helps Arizona homeless find work
Posted:
Updated: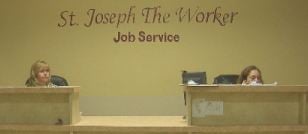 PHOENIX (CBS5) -
Amine Hakik seemed to have it all.
"I had a really nice apartment, a really nice car. I was doing well. I had friends," he said.
Then, Hakik was arrested for driving under the influence of alcohol. He ended up in jail. When he was released six months later, the life he knew was gone.
"Literally, seriously, I had 35 cents to my pocket," he added.
Hakik was now homeless.
"I used to wait until McDonald's closed or Burger King and I'd go through their trash, honestly, to get something to eat," he said.

Crying and desperate, Hakik remembered hearing about St. Joseph the Worker.
"I tell people we can help 'the willing' with anything they need to get back to work, to become self-sustaining," said Brent Downs, executive director of St. Joseph the Worker.
The facility is a community lifesaver, tucked away in downtown Phoenix. It's where a homeless person who is ready and willing to work can get matched with a job developer and is given access to all the essentials.
"Transportation, hygiene, resumes, cover letters, address, phone. The basic things we all take for granted when we get up every day and start our lives," Downs says.
That includes a clothing closet stocked with appropriate attire for a job interview. Clients even have access to an on site post office.
"Because it's kind of hard to go get a job and somebody tries to find you and you have no address," Downs adds.
Downs says more than 1,000 of their clients have landed jobs in the last four months. Every time they do, he says, "We celebrate the fact that they got a job."
They're also given a bus pass and a McDonald's gift card to make sure they don't go hungry.
"We've had clients go to work for two weeks until they get paid with no food," Downs adds.
Downs believes St. Joseph the Worker is a life-changer.
"It gives people that little hand up that they need to get their life back together and we provide that little hand up to folks willing to change their life."
Hakik said he's been working since March and has already been promoted.
"That's all I needed," he says. "If it wasn't for St. Joseph the Worker, I don't know what would've happened to me."
Click St. Joseph the Worker, for more information.

Copyright 2013 CBS 5 (KPHO Broadcasting Corporation). All rights reserved.