New technology helps diagnose moles before biopsies
Posted:
Updated: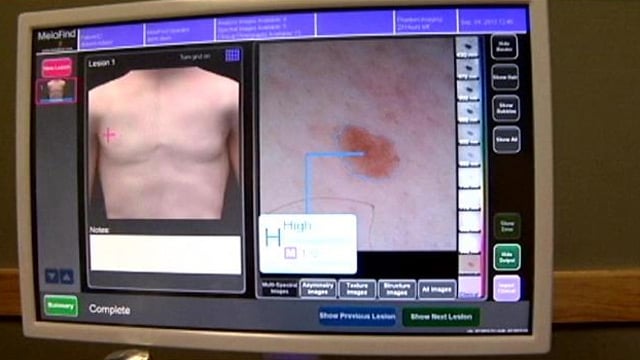 A skin scan is analyzed with Melafind. (File/FOX Carolina)
GREENVILLE, SC (FOX Carolina) -
A new kind of technology has made its way to the Upstate that makes it easier for dermatologists to know if a patient may have cancer without breaking the skin.
It's called Melafind, and a doctor in Greenville said that with melanoma being the leading cause of cancer deaths in young people, the digital scanner will make preventative trips to the dermatologist that much more simple.
When used on a patient, a picture is taken, and then Melafind categorizes the mole based on how irregular or "disorganized" the tissue is as it gets deeper. Dr. Matthew Miller of Greenville Dermatology said it's the look at the deeper layers of skin that is the reason why he wanted to bring Melafind to his office.
"We can't look at you and know, 'That's a melanoma. You have to take that off,'" said Miller. "We're human, so we have to take things off to see for sure. This just kind of gives us another step that we can do before having to cut on you and leave a scar."
Miller said even if a scan shows "high disorganization," if it ranks below a three, he doesn't see a need to slice it off.
Miller has owned the practice for 12 years, and said it's far too often that he scrapes skin for a biopsy to find that a mole is not malignant. He's found that this simple scan is 98 percent on par with biopsy results.
Miller tested a patient who he said had melanoma in the past, so he's more susceptible to getting it again. Miller said that patient has had plenty of moles cut off for biopsies just to be safe. The patient called this scan "more enjoyable; it's not invasive."
The Melafind scanner has been especially helpful with children, who don't always take kindly to needles that come with biopsies, said Miller.
He said patients have come from across the Carolinas because his is the only office in South or North Carolina to use the technology. He said the $10,000 yearly lease he pays, plus a $12 charge for each scan is worth it for patients who are used to regular biopsies.
The Melafind tool was first released to dermatologists in February. Miller jumped on board to lease one in May. He said there is an extra charge to use Melafind since it's not covered by regular insurance yet.
Miller said he realizes many people may be skeptical; there is even a debate among doctors. Some don't think Melafind is necessary and that irregular looking moles should be removed regardless so patients don't feel what they call a "false sense of security."
Copyright 2013 FOX Carolina (Meredith Corporation). All rights reserved.