No. 1 high school recruit headed to Clemson
Posted:
Updated: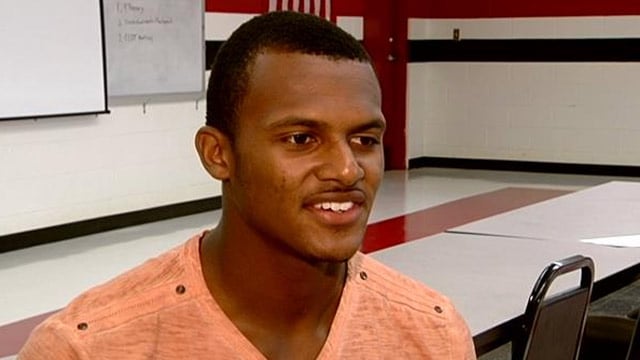 Clemson Univ. recruit Deshaun Watson talks with FOX Carolina's Aaron Cheslock. (File/FOX Carolina)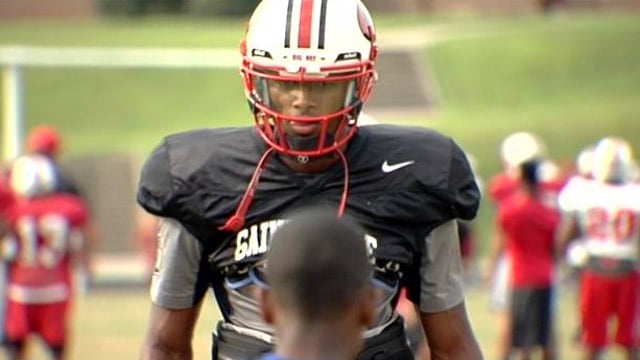 Clemson Univ. recruit Deshaun Watson at practice in Gainesville, GA. (File/FOX Carolina)
CLEMSON, SC (FOX Carolina) -
The Tigers are having another great season. But what happens next year?
Clemson stars Tajh Boyd and Sammy Watkins will almost certainly be playing in the NFL. But FOX Carolina found Clemson's ready to reload with Deshaun Watson.
Many consider Watson the no. 1 high school quarterback in the country.
Everyone around Watson says all the same things. He's smart, selfless, a special player and more importantly a great person. And Watson plans on making an impact right away at Clemson. He expects to play as a freshman.
In fact, Watson plans to start at quarterback next year.
"I can step in and compete for the job, and hopefully win it," Watson said. "It's going to be tough, but I think I can handle it. I did it for my high school team, just take it one day at a time."
Watson came to Gainesville High School in Georgia a year after they lost the state championship. The Red Elephants had a junior ready to step in behind center, but Watson was so good in the spring, the other quarterback volunteered to move to wide receiver.
Gainesville Head Coach Bruce Miller says it's the first time he's ever started a freshman at quarterback.
"He does it so effortlessly," Miller said. "He's kind of like those great athletes that you see that just make it look so easy for him and easy for the others around him."
Miller thinks the game just looks different to Watson than other players.
"I really think the game slows down for him," Miller said. "Where it's going about 100 mph for some kids, it's going about 75 percent for him."
Watson broke the Georgia state records for passing touchdowns, all-purpose yards, and passing yards, all as a junior.
"Every record he breaks now is going to be his own," Miller said. "He just does it so unassumingly.
Watson said he never looks at the numbers or the records.
"I never thought about, 'Oh, if I get this I can break the touchdown record or the career passing record,'" Watson said. "I just love to see my teammates score. Fourth and 1, I'd love to hand it off to my running back to see him get the first down or the touchdown."
Watson can run or pass, but he calls himself a pocket passer first.
Watson walks up to the line with three plays in mind. He has the freedom to choose which one to run, depending on the defense.
That's a lot of responsibility, the same kind Clemson quarterback Tajh Boyd's had for a while. The comparisons between the two come naturally.
James Thurn covers the tigers for 104.9 FM. He's followed Watson ever since he committed as a sophomore.
"I think Tiger fans can expect Deshaun Watson to be a guy that can throw the football as well as Boyd can, as he develops in his career, and he'll run the football better than Tajh," he said.

Thurn said while red-shirt freshman Chad Kelly's talented, and Cole Stoudt's played great in spurts, Watson's too good to red shirt.
"I think the chances of him being the starter here at Clemson are pretty good," Thurn said. "I think he'll come in and compete with these guys, and we'll see what happens."
Watson's leaning on Boyd to get a leg up on the competition next year. Watson said they talk regularly about what the star Tigers quarterback goes through.
"I learn a lot from him," he said. "Every time I'm talking to him, I always try to pick his mind and see the things I can work on and try to prepare myself for that for the future."
Like Boyd, Watson leads through actions, not words. He doesn't complain. Running the spread offense, he gets hit a lot but never comes out of the game. He's never missed practice. In fact, Miller says he's only seen Watson get frustrated twice in four years.
"It's not about Deshaun Watson. It never has been about Deshaun Watson; it never will be. It's always about the team," Miller said. "You'd never know it's Deshaun Watson the top quarterback in the nation walking around."
Watson's a good student, too, he has a 3.4 GPA. Miller said Clemson fans can rest assured that Tajh Boyd's heir apparent is as good off the field as he is on it.
"This kid can be the next all-American, but what they're getting more than anything else is a good person," Miller said.

Watson said he won't change as the stage gets bigger. Modesty was hammered home early, at home.
"The way my mom treats me, and the way she raised me, I always have a humble head and I don't let things get to me," Watson said. "Even the big spotlight. I always keep to myself and be myself and not change for anything."
Watson said he doesn't mind others calling him the "next Tajh Boyd." But he's just going to do the best he can with a big opportunity.
"For me, I'm just a high school guy, a regular teenager that's just turned 18 so, I haven't even stepped on campus yet at Clemson so who knows what the future holds," Watson said.
While Clemson Head Coach Dabo Swinney and Offensive Coordinator Chad Morris are thrilled to get him for the next four years, Miller said he's not sure he'll ever get another four year stretch like this again.
"Deshaun's just special," Miller said. "…And I keep telling the guys there'll never be another one like him. I hope there is, but I'm afraid there may not be."
If you're wondering how Watson got out of Georgia, and why he picked Clemson, it's simply because they offered him a scholarship first. Watson said he also feels comfortable with Swinney, Morris and Clemson's coaches.
And naturally, he feels really comfortable in Morris' spread offense. He just broke another record running that system at Gainesville. Watson's the first quarterback in Georgia history to pass for more than 10,000 yards.
A lot of yards through the air for a "duel threat" quarterback.
Watson is enrolling early, and will be on Clemson's campus in just a few short weeks.
Copyright 2013 FOX Carolina (Meredith Corporation). All rights reserved.