Vandals plague Peoria subdivision
Posted:
Updated: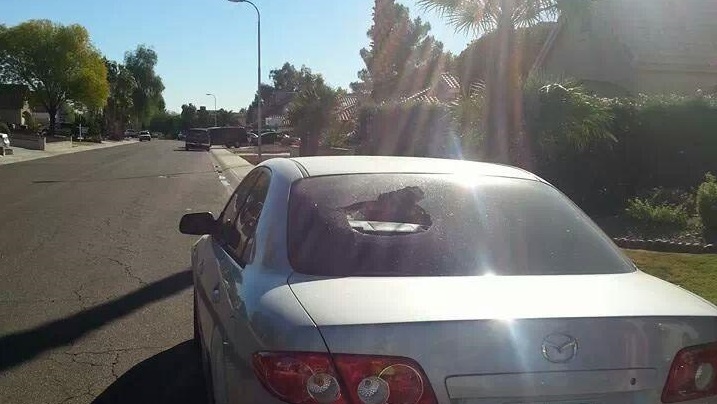 PEORIA, AZ (CBS5) -
When Joe Hoyt woke up on Saturday, he found a gaping hole in his car's back window. Inside the vehicle, he found a football-sized rock in the center console, but nothing was stolen.
He was just one of nearly a dozen car vandalism reports filed with the Peoria Police Department just this weekend. All of them were reported in a hyper-focused area near Sweetwater and 72nd Avenue.
Rick King says this was just the most recent round from a group of what he believes are troubled teens.
"Somewhere around 2 in the morning, the bewitching hour starts," he said.
According to King, he and his neighbors have taken their cars and trucks to the body shop on several occasions and the problem is getting worse.
"It used to be just toilet paper and the easy stuff," King said.
Then it moved on to fruit, which Hoyt believes dented his car.
"You can just see the path of destruction," Hoyt said. "Each one of them costs just a little more money."
After the fruit came the eggs and now rocks. The vandalism is forcing victims to dig into their wallets or have their car insurance companies pick up the tab, but King says it doesn't stop with car vandalism.
"Last night, my wife was awoken by three boys trying to take that sign down," he said.
The sign, reading SPEED HUMPS 20 MPH, is still there, but it's now severely bent at the base.
Some of the victims fear the rash of car vandalism could alter their insurance premiums and are pleading with police for more patrols in the area to put an end to what they believe could be costly teenage pranks.
For more on this story and other stories around Arizona from this author, follow Shawn Kline on Facebook and Twitter.

Copyright 2013 CBS 5 (KPHO Broadcasting Corporation). All rights reserved.
Vandals plague Peoria subdivision

More>>

SLIDESHOW: Butler's home


More >