Salt makes Solana shine on after dark
Posted:
Updated:
Posted by Sean McLaughlin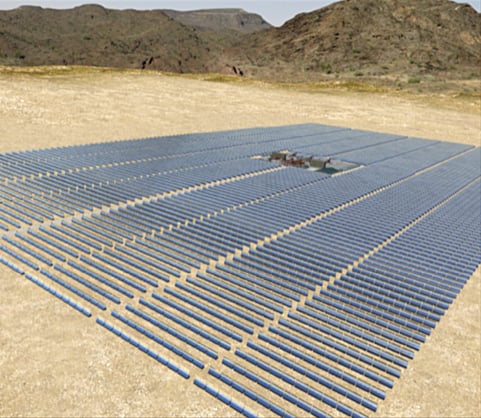 PHOENIX (CBS5) -
You can't miss it from the ground or from the air.
When it's the size of 1,400 football fields and pops up in the middle of the desert, it tends to get noticed.
Covering three square miles, the former alfalfa farm was transformed over the last three years into the largest concentrated solar power generating plant in the world. It's called Solana, Spanish for sunny spot, and it can produce up to 280 megawatts, enough electricity to power 70,000 homes. And it has just one customer for the next 30 years, APS.
Brad Albert, general manger for resource management for APS, said, "It makes a big difference for our power generation. This plant will meet about 20% of our overall renewable energy requirements."
Rules set in place by the Arizona Corporation Commission requires electric utilities to generate 15 percent of their energy from renewable resources by 2025. Albert said, "The technologies in this plant are really tried and true and have been proven out over a number of years . So there's nothing really earth shattering about the technologies that are being employed here."
So it looks high tech, but it's really not. So how does it produce electricity from the sun? Let's start with those perfectly curved mirrors that track the sun.
Each section of these curved mirrors are massive - 420 feet long, 20 feet tall, 20 feet wide and there's 3,200 of them on the ground surrounding the power plant.
Spaniard Emiliano Garcia is Solana's general manager and now calls Arizona home. He's passionate about the mirrors, manufactured locally in Surprise. And there's a lot of them. Try 1 million and they work on a simple premise.
"What we try to do is to concentrate the sun on that black tube, " said Garcia. "This black tube has a fluid that is a synthetic oil that transmits the heat to the power block that we use to make the steam."
All that hot oil flows in from the mirrors in these giant silver pipes to the center of the plant called the power block. It's split two ways. Some of it is sent over to the steam generator to produce steam. And that steam is used to turn the giant turbines to produce power that's sent out to the grid.
So what's makes this facility different from all the other power plants out there? The answer just might be sitting on your kitchen table.
That heated oil also flows into these giant vats of salt and heats the mixture to over 700 degrees Fahrenheit. So when the sun goes down, the plant taps that simple, yet salty thermal storage system to make more steam. That keeps the turbines cranking and the power flowing up to six hours after sunset.
But with a price tag near $2 billion, won't solar technology surpass this plant?
Albert said, "That's always a risk. Technology is going to continue to improve. But we have power plants that were built in the 1960s and 1970s that we are still using reliably and cost effectively to meet the needs of our customers."
Copyright 2013 CBS 5 (KPHO Broadcasting Corporation). All rights reserved.